All the way to Malta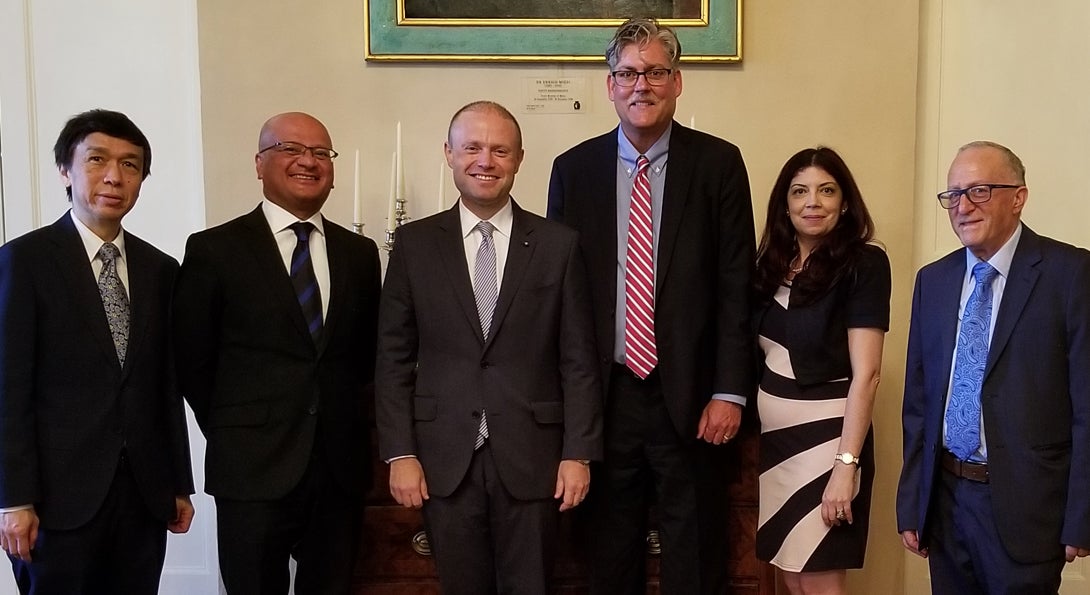 Though the UIC College of Pharmacy sits more than 5,000 miles away from Malta, the Chicago institution continues having a major impact on pharmacy in the island nation surrounded by the Mediterranean Sea.
Over the last decade, UIC has helped the University of Malta, the premier university in the European nation, launch its Doctor of Pharmacy program, initiated training programs for both faculty and students, collaborated on research projects and expanded the University of Malta's international network.
"Being involved with the University of Malta is mutually beneficial," says Dr. Alan Lau, professor emeritus and director of International Clinical Pharmacy Education at UIC. "It has expanded and strengthened our network of international collaborations and opened new doors for improved pharmacy education, research and practice at both institutions as well as our partners."
Most notably, UIC assisted the European university in preparing the launch of its PhD-level Doctor of Pharmacy program in 2014. UIC arranged course contents, shared teaching materials and resources and helped its Maltese partners define parameters for the new program.
In the subsequent six years, UIC has remained a supportive, engaged partner. UIC faculty have led online discussion sessions and shared recorded lectures during the Malta program's mostly didactic first year before hosting second and third-year students at UIC for short-term clinical rotations.
According to Dr. Lilian M. Azzopardi, head of the University of Malta's Department of Pharmacy, UIC's assistance has spurred her department to advance pharmacy knowledge, practice and research for 76 students from 18 different countries.
"[The UIC College of Pharmacy has provided] its distinctive characteristic of using proven excellence in pharmacy health systems as a platform to intensify knowledge, people-centered practice and nurture innovation through practice research," says Azzopardi, the current president of the European Association of Faculties of Pharmacy.
Beyond its efforts with the University of Malta's Doctor of Pharmacy degree program, UIC faculty have also visited the European island to teach students directly, supported doctorate-program research, developed training programs for practice-focused faculty members and introduced University of Malta pharmacy personnel to UIC's other international partners scattered around the globe.
These efforts have contributed to a more robust academic environment at the University of Malta and enabled the university's students and alumni to design and improve pharmaceutical service models in Malta and elsewhere, Azzopardi says.
According to UIC College of Pharmacy Dean Glen Schumock, UIC's active relationship with the University of Malta characterizes the Chicago school's mission to be the global leader in innovative pharmacy education and research and to positively influence how pharmacy is practiced around the world.
"Our partnership with the University of Malta is one that is both the most significant in terms of commitment of time and personnel, but also the most impactful in terms of the number of students trained by the program and the international reach that they have," says Schumock, who visited Malta in June 2019 with UIC colleagues to meet with the country's prime minister, national health officials and University of Malta administration and faculty.
As a new decade begins, both parties are committed to evolving the already dynamic and profitable relationship.
When University of Malta representatives visited UIC in July 2019, they explored new engagement opportunities with the College of Pharmacy as well as potential partnerships with UIC's other health science colleges. Later this year, meanwhile, UIC faculty members Karl Larsen and Frank Paloucek will host a forensic science workshop at the Malta campus while a group of UIC fourth-year PharmDs will complete a clinical rotation in Malta.
"We're continuing to look for opportunities to support one another and working together with our partners to advance pharmacy globally," Lau says.