Ask an Alumnus: William Pong, PharmD '91, MBA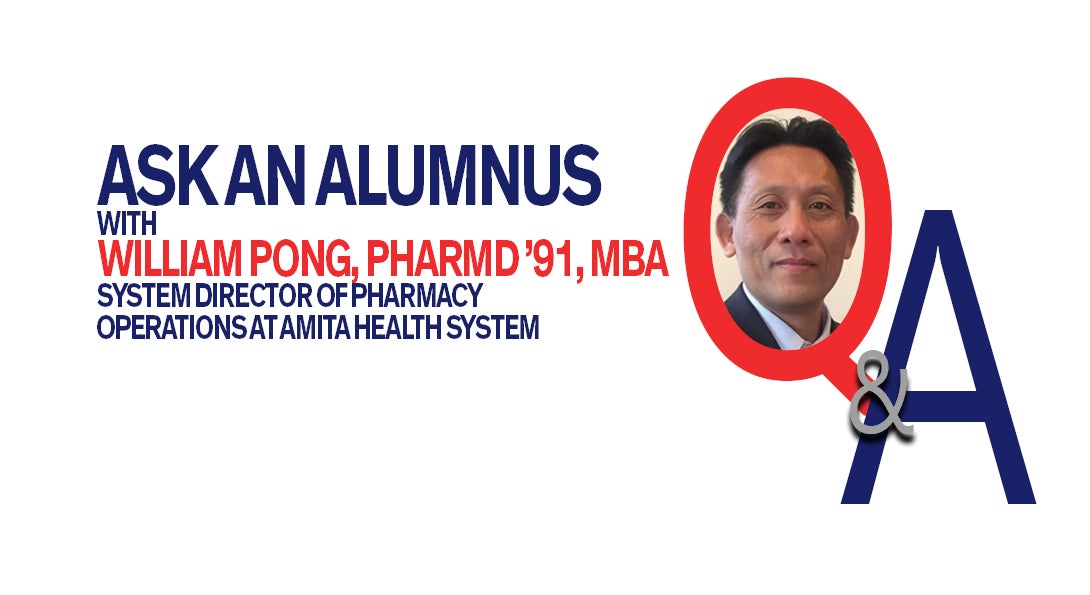 William Pong, PharmD '91, MBA
System Director Pharmacy Operations AMITA Health
Dr. William Pong, PharmD, MBA, is the system director of pharmacy at AMITA Health System. He received his PharmD from the University of Illinois at Chicago and his MBA from Olivet Nazarene University. Pong is responsible for leading pharmacy operations for the 19 hospitals across AMITA Health as well as advancing and supporting system initiatives, including outpatient oncology pharmacies, ambulatory services, retail pharmacies, 340B program strategy and compliance, pharmacy fiscal budget improvement and business development, specialty pharmacy, and more.
In the 28 years of his pharmacy career, Pong has practiced in a variety of hospital settings, including community, academic, single-site, multisite, and health systems. He has held several nonprofit and for-profit leadership positions, including clinical, operations, and administration. Before joining AMITA Health, his most recent roles include administrative director of pharmacy for Loyola University Health System, system director of pharmacy services for Wheaton Franciscan Health Care, and regional director of pharmacy for Vanguard Health System.
Pong is a mission-focused leader with a history of producing sustainable results working with high-performance teams to implement key strategies that focus on patients, colleagues, and the organization. His experience covers a wide span of pharmacy practice, including operations, clinical, informatics, regulatory, finance, quality, strategy, business development, and leadership. In addition, Pong has been a preceptor for hundreds of pharmacy students, serving as an adjunct professor for various colleges of pharmacy, including UIC, Midwestern University, Purdue University, and Drake University.
Q: As a pharmacist, how can I best prepare to adapt to the inevitable changes ahead in the next 20 years?
A: Understanding the dynamics and forces that continue impacting the changes in the healthcare climate, such as focusing on population health, access to care delivery, and efforts in reducing the overall cost of care, are important for adapting to inevitable changes ahead. I believe the vision to see what lies ahead in five, ten, or twenty years is critical to how we plan today for a changing tomorrow. As practitioners, we need to stay flexible and open-minded and strategically position ourselves and the profession to address the unmet needs facing patient care and the healthcare delivery system.
Q: What are you working on right now, and what have you learned from it?
A: Aside from the traditional hospital acute care pharmacy operations, such as cost containment, regulations, formulary, etc., I am working to help advance pharmacy practice and position my health system for success in future clinical practice and financial stewardship. This includes preventative medicine, ambulatory services, specialty pharmacy, revenue cycle, practice models, residency programs, and more. Of course, this is all happening while we are learning to function as a system across all the AMITA pharmacies. What I have learned is that pharmacy has become a very dynamic field, and we, as a profession, must be ready to advance as the healthcare system evolves. In addition, there are opportunities for standardization, optimization, and sharing best practices.
Q: How does your pharmacy degree inform your leadership style?
A: Trained as a pharmacist, I am naturally detail-oriented, clinical, and evidence-based, etc. I believe these characteristics tend to translate my leadership style to a more clinical approach and scientific perspective. From my years of experience, whether it is a clinical or management role, my pharmacy degree has positioned me as the expert in my field serendipitously. Whether I like it or not, physicians and leaders look to me for guidance within the organization and often look upon me as the drug expert or most knowledgeable in pharmacy practice. What I have learned over the years is that the professionalism of pharmacy and creditability earned influenced my leadership style, and it was a high-quality foundation to build from. However, my leadership style has evolved with additional experience and mentorship. To be an effective leader, I learned to listen, support, motivate, care, and build relationships.
Q: Given your many career moves, how do you prepare for a new role? What do you enjoy most about your work?
A: Change comes with every new landscape we enter. Some key elements are to understand the organization's culture and goals and to align your service line to them. I also think it is important to know the stakeholders, set clear expectations, build relationships, and stay humble and hungry. What I enjoy most about my work is the variety, fast pace, teaching, problem-solving, and forward-thinking aspects of the field. Also, planning and deploying solutions to improve patient care and access and being in the position to change care delivery, promote pharmacy practice, and the profession for the future.
Q: What was the most important thing you learned while in pharmacy school? Who has influenced your career?
A: I would say staying focused, multitasking, collaboration, and time management were some of the important elements I learned in pharmacy school. And of course, study, study, and study! I also learned not to be afraid to select a rotation that is your weakest subject. It was a great learning opportunity to strengthen my knowledge, and it turned out to be a wonderful rotation. There are quite a few people that have influenced my career, but specifically, the pharmacy director at my first job in pharmacy as a pharmacy technician, the CEO at my first job as a pharmacy director, and my first boss at the academic medical center impacted my career the most. They challenged and motivated me to do better; they believed in me and allowed me to grow and the opportunity to learn.
Q: What do you love about pharmacy? Management?
A: I love pharmacy because it is dynamic, relevant, progressive, scientific, academic, and more. There are so many facets involving patient care and research that touch so many patients and at different points of care. It is a field that continues to advance, improving patient care and outcomes. From my experience, management is a great pairing with the pharmacy as it expands our horizons into nonclinical dimensions. Management allows us to focus on leadership, business operations, regulatory, informatics, finance, and revenue cycle. I feel it allows me to balance both the clinical and operations aspect of pharmacy and helps me see healthcare holistically.
Q: Do you have advice for our current student pharmacists?
A: Take every opportunity to explore the different practices that pharmacy has to offer because you might land in an area that you never thought you would have. Everyone knows it is important to set goals and determine our career path. I believe it is critical to stay abreast of changes in healthcare, understand the future needs for pharmacist roles, and strategically position yourself to support these changes. It is not how fast you skate but rather knowing where the puck is going to be.
Q: What does it mean to you to be an alumnus of the UIC College of Pharmacy?
A: I am extremely proud to be a graduate and alumnus of UIC College of Pharmacy. It has been a top ten pharmacy school in the country for decades and continues to provide high-quality education. To me, it has been a privilege to have the opportunity to attend and train here. It is a rigorous program that offers a solid foundation that prepared me well for a career in pharmacy. I applied to only one pharmacy school, and I am happy that it was UIC.
Q: What motivates you to support the college?
A: I am grateful for the opportunity and training at UIC. As a proud alumnus, I want to not only promote the college but help continue its legacy of educational excellence and preparing future UIC pharmacists. I had a great experience at UIC and felt the school prepared me well for the boards, clinical practice, and a career. As part of giving back, I want to leverage my experience to educate and inspire the next generation of pharmacists about the growth, changes, and opportunities in the future.