Celebrating American Pharmacists Month: Dr. Joseph Burchett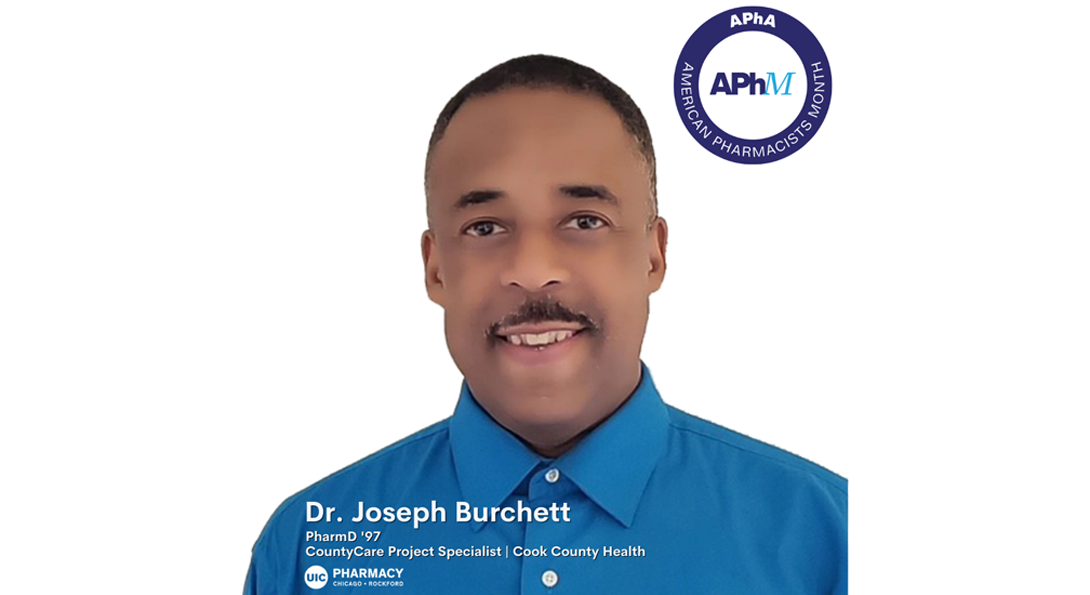 This American Pharmacists Month, the UIC College of Pharmacy celebrates some of its alumni and faculty for their contributions to the profession and for the top-notch care they provide!
Today we are honoring Dr. Joseph Burchett, PharmD '97, who is currently a CountyCare Project Specialist with Cook County Health -- who shared with us what he does in his role and why he's passionate about pharmacogenomics.
Dr. Burchett
Currently, I'm working at Cook County Health as a Managed Care Project Specialist focused on improving patient care while increasing profitability of the hospital through utilization of the 340B Drug Pricing Program. I'm also training in the field of pharmacogenomics (PGx) which personalizes medication use and dosing.
My goal is to start my own PGx consulting practice within the next 5 years. Pharmacists have the unique opportunity to connect with patients and to involve them in improving their own health. We may not always get to see the fruit of our labor (i.e. improved health outcomes), but when we do, it's bliss! That is what has kept me engaged for 20 years.
My advice to the talented, future pharmacists of tomorrow is not to be afraid to think outside the box. The traditional roles of pharmacists are consistently evolving and are expected to do so for years to come. Do your research and follow your passion when pursuing your career. Pharmacists are capable of expressing their skills and knowledge in a variety of ways. Nowadays, pharmacists have their hands in some of everything and are demonstrating their value. No idea is too bizarre, so go for it!
Modified on October 10, 2021