Celebrating American Pharmacists Month: Dr. Sean Beirne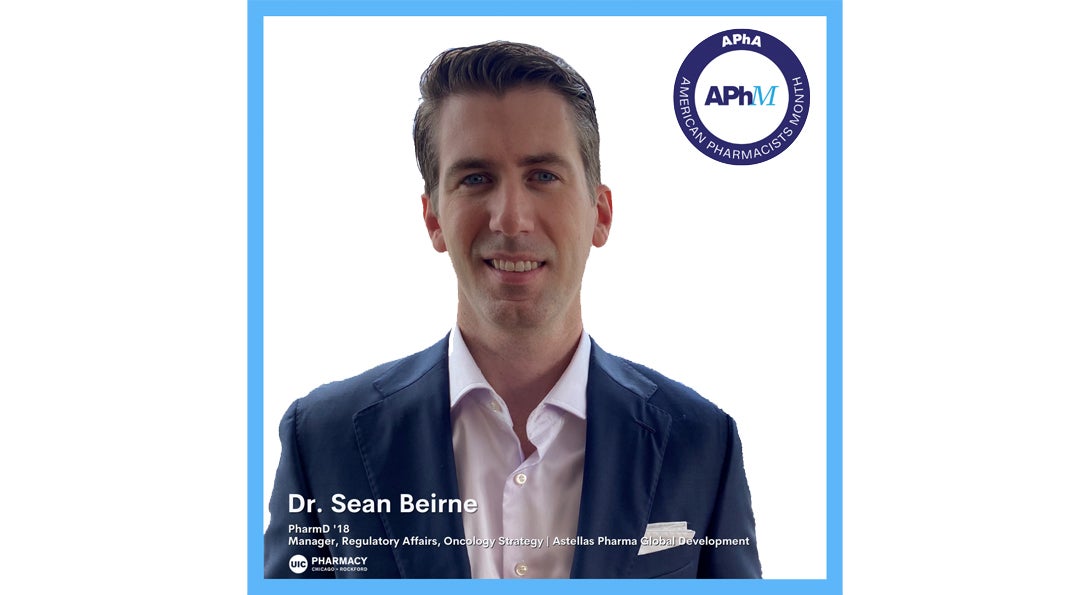 This American Pharmacists Month, the UIC College of Pharmacy celebrates some of its alumni and faculty for their contributions to the profession and for the top-notch care they provide!
Today we are honoring Dr. Sean Beirne, PharmD '18, who is currently the Manager of Regulatory Affairs, Oncology Strategy at Astellas Pharma Global Development. Dr. Beirne completed a rotation at Astellas during his P4 year and earned a post-doctoral regulatory affairs fellowship at Astellas, focusing primarily on oncology. In addition to his current role at Astellas, he also serves as a preceptor for UIC students. Learn more about why he loves being a regulatory affairs pharmacist and his advice for future pharmacists.
What do you love most about being a pharmacist (specifically working in the industry side of pharmacy)?
As a pharmacist working in the pharmaceutical industry, I get the opportunity to work as part of a team that focuses on developing new medications with innovative treatment modalities which have the potential to positively impact thousands of patients around the world. I find working in oncology to be particularly exciting because it often feels like the drugs you work on have the chance to become breakthrough therapies with the potential to extend patients' lives and possibly cure their disease. It feels like the oncology drug development space changes every day and it's extremely rewarding to be a part of that.
What advice do you have for student pharmacists?
Network early and often. Don't be afraid to reach out to pharmacists working in various functions to find out more about their role and how they ended up where they are. Pharmacists don't expect you to know everything about the professional world, especially in the industry setting, so don't be afraid to ask questions. One of my biggest regrets at the end of pharmacy school was not taking full advantage of networking opportunities offered by UIC during the first 1-2 years, assuming those were mainly for p3s and p4s.
If you know what area of pharmacy you are interested in, try to gain experience in that area as early as possible (internship, externship, rotation, even volunteering or unpaid opportunities). If you miss out on an internship don't give up! Rotations can be the equalizer. I missed out on an industry internship after P2 year but was able to make up for it with my Astellas RA rotation.
Modified on October 25, 2021