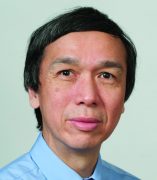 Alan Lau

Professor Emeritus and Director, International Clinical Pharmacy Education, Pharmacy Practice
Contact
Building & Room:
B14, AOB
Address:
833 South Wood Street, Chicago, IL, 60612
Office Phone:
Office Phone TTY:
Email:
CV Link:
About
Dr. Lau's research interests include the application of clinical pharmacokinetic principles to various area
of pharmacotherapeutics, primarily in nephrology. He has conducted clinical and laboratory studies to evaluate solute and drug transfer during dialysis and hemofiltration, pharmacokinetic and pharmacodynamics as well as efficacy studies of investigational agents for renal anemia and
bone diseases. In addition, he is conducting laboratory studies to identify the role of apoptosis in cytotoxic drug actions and resistance as well as renal injury.
Education
OtherClinical Pharmacy Residency, , University of Illinois Chicago, Chicago, IL
PharmD, , State University of New York at Buffalo, Buffalo, NY
BS, Pharmacy, State University of New York at Buffalo, Buffalo, NY