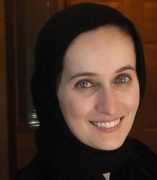 Dima M. Qato

Assistant Professor, Pharmacy Systems, Outcomes and Policy
Center Affiliate, Center for Pharmacoepidemiology and Pharmacoeconomic Research
Contact
Building & Room:
Room 266, College of Pharmacy
Address:
833 South Wood Street, Chicago, IL, 60612
Office Phone:
Fax:
Email:
About
Research Interests: Dr. Dima M. Qato joined the College of Pharmacy in 2012. Dr. Qato is an Assistant Professor in the Department of Pharmacy Systems, Outcomes, and Policy. Dr. Qato earned her PharmD from UIC, her MPH from the Johns Hopkins Bloomberg School of Public Health, and her PhD from the UIC School of Public Health. Dr. Qato's primary research interests relate to access and use of medications in vulnerable populations, including older adult, minority and and refugee populations. Dr. Qato uses population-based methods to understand patterns and determinants of medication use, with emphasis on aging, drug safety and disparities. In 2001, she was the recipient of the Schweitzer Fellowship and in 2002 she was granted the prestigious Fulbright Scholarship to study impediments to the appropriate use of medicines in Jordan. She was also recently awarded the Palestinian-American Research Center (PARC) fellowship and was a fellow with the Institute of Research on Race and Public Policy (IRRPP) at UIC.
Clinical Interests: Clinical Pharmacist, Retail Pharmacist
Selected Publications
Mokdad AH, Forouzanfar MH, Daoud F, El Bcheraoui C, Moradi-Lakeh M, Khalil I, Afshin A, Tuffaha M, Charara R, Barber RM, Wagner J, Cercy K, Kravitz H, Coates MM, Robinson M, Estep K, Steiner C, Jaber S, Mokdad AA, O'Rourke KF, Chew A, Kim P, El Razek MM, Abdalla S, Abd-Allah F, Abraham JP, Abu-Raddad LJ, Abu-Rmeileh NM, Al-Nehmi AA, Akanda AS, Al Ahmadi H, Al Khabouri MJ, Al Lami FH, Al Rayess ZA, Alasfoor D, AlBuhairan FS, Aldhahri SF, Alghnam S, Alhabib S, Al-Hamad N, Ali R, Ali SD, Alkhateeb M, AlMazroa MA, Alomari MA, Al-Raddadi R, Alsharif U, Al-Sheyab N, Alsowaidi S, Al-Thani M, Altirkawi KA, Amare AT, Amini H, Ammar W, Anwari P, Asayesh H, Asghar R, Assabri AM, Assadi R, Bacha U, Badawi A, Bakfalouni T, Basulaiman MO, Bazargan-Hejazi S, Bedi N, Bhakta AR, Bhutta ZA, Bin Abdulhak AA, Boufous S, Bourne RR, Danawi H, Das J, Deribew A, Ding EL, Durrani AM, Elshrek Y, Ibrahim ME, Eshrati B, Esteghamati A, Faghmous IA, Farzadfar F, Feigl AB, Fereshtehnejad SM, Filip I, Fischer F, Gankpé FG, Ginawi I, Gishu MD, Gupta R, Habash RM, Hafezi-Nejad N, Hamadeh RR, Hamdouni H, Hamidi S, Harb HL, Hassanvand MS, Hedayati MT, Heydarpour P, Hsairi M, Husseini A, Jahanmehr N, Jha V, Jonas JB, Karam NE, Kasaeian A, Kassa NA, Kaul A, Khader Y, Khalifa SE, Khan EA, Khan G, Khoja T, Khosravi A, Kinfu Y, Defo BK, Balaji AL, Lunevicius R, Obermeyer CM, Malekzadeh R, Mansourian M, Marcenes W, Farid HM, Mehari A, Mehio-Sibai A, Memish ZA, Mensah GA, Mohammad KA, Nahas Z, Nasher JT, Nawaz H, Nejjari C, Nisar MI, Omer SB, Parsaeian M, Peprah EK, Pervaiz A, Pourmalek F, Qato D, Qorbani M, Radfar A, Rafay A, Rahimi K, Rahimi-Movaghar V, Rahman SU, Rai RK, Rana SM, Rao SR, Refaat AH, Resnikoff S, Roshandel G, Saade G, Saeedi MY, Sahraian MA, Saleh S, Sanchez-Riera L, Satpathy M, Sepanlou SG, Setegn T, Shaheen A, Shahraz S, Sheikhbahaei S, Shishani K, Sliwa K, Tavakkoli M, Terkawi AS, Uthman OA, Westerman R, Younis MZ, El Sayed Zaki M, Zannad F, Roth GA, Wang H, Naghavi M, Vos T, Al Rabeeah AA, Lopez AD, Murray CJ. (2016). Health in times of uncertainty in the eastern Mediterranean region, 1990-2013: a systematic analysis for the Global Burden of Disease Study 2013.. The Lancet. Global health. Vol. 4. Issue 10. Page(s) e704-13.
Qato D, Alexander GC. (2016). Fish Oils and Bleeding-Where Is the Evidence?-Reply.. JAMA internal medicine. Vol. 176. Issue 9. Page(s) 1406-7.
Davis AM, Taitel MS, Jiang J, Qato D, Peek ME, Chou CH, Huang ES. (2016). A National Assessment of Medication Adherence to Statins by the Racial Composition of Neighborhoods.. Journal of racial and ethnic health disparities.
Qato D, Wilder J, Schumm LP, Gillet V, Alexander GC. (2016). Changes in Prescription and Over-the-Counter Medication and Dietary Supplement Use Among Older Adults in the United States, 2005 vs 2011.. JAMA internal medicine. Vol. 176. Issue 4. Page(s) 473-82.
Qato D, Lee TA, Durazo-Arvizu R, Wu D, Wilder J, Reina SA, Cai J, Gonzalez F, 2nd GA, Talavera RJ, Ostfeld ML, Daviglus . (2016). Statin and Aspirin Use Among Hispanic and Latino Adults at High Cardiovascular Risk: Findings From the Hispanic Community Health Study/Study of Latinos.. Journal of the American Heart Association. Vol. 5. Issue 4.
Solanki PA, Ko NY, Qato D, Calip GS. (2016). Risk of cancer-specific, cardiovascular, and all-cause mortality among Asian and Pacific Islander breast cancer survivors in the United States, 1991-2011.. SpringerPlus. Vol. 5. Page(s) 82.
Forouzanfar MH, Alexander L, Anderson HR, Bachman VF, Biryukov S, Brauer M, Burnett R, Casey D, Coates MM, Cohen A, Delwiche K, Estep K, Frostad JJ, Astha KC, Kyu HH, Moradi-Lakeh M, Ng M, Slepak EL, Thomas BA, Wagner J, Aasvang GM, Abbafati C, Abbasoglu Ozgoren A, Abd-Allah F, Abera SF, Aboyans V, Abraham B, Abraham JP, Abubakar I, Abu-Rmeileh NM, Aburto TC, Achoki T, Adelekan A, Adofo K, Adou AK, Adsuar JC, Afshin A, Agardh EE, Al Khabouri MJ, Al Lami FH, Alam SS, Alasfoor D, Albittar MI, Alegretti MA, Aleman AV, Alemu ZA, Alfonso-Cristancho R, Alhabib S, Ali RA, Ali MK, Alla F, Allebeck P, Allen PJ, Alsharif U, Alvarez E, Alvis-Guzman N, Amankwaa AA, Amare AT, Ameh EA, Ameli O, Amini H, Ammar W, Anderson BO, Antonio CA, Anwari P, Argeseanu Cunningham S, Arnlöv J, Arsenijevic VS, Artaman A, Asghar RJ, Assadi R, Atkins LS, Atkinson C, Avila MA, Awuah B, Badawi A, Bahit MC, Bakfalouni T, Balakrishnan K, Balalla S, Balu RK, Banerjee A, Barber RM, Barker-Collo SL, Barquera S, Barregard L, Barrero LH, Barrientos-Gutierrez T, Basto-Abreu AC, Basu A, Basu S, Basulaiman MO, Batis Ruvalcaba C, Beardsley J, Bedi N, Bekele T, Bell ML, Benjet C, Bennett DA, Benzian H, Bernabé E, Beyene TJ, Bhala N, Bhalla A, Bhutta ZA, Bikbov B, Bin Abdulhak AA, Blore JD, Blyth FM, Bohensky MA, Bora Başara B, Borges G, Bornstein NM, Bose D, Boufous S, Bourne RR, Brainin M, Brazinova A, Breitborde NJ, Brenner H, Briggs AD, Broday DM, Brooks PM, Bruce NG, Brugha TS, Brunekreef B, Buchbinder R, Bui LN, Bukhman G, Bulloch AG, Burch M, Burney PG, Campos-Nonato IR, Campuzano JC, Cantoral AJ, Caravanos J, Cárdenas R, Cardis E, Carpenter DO, Caso V, Castañeda-Orjuela CA, Castro RE, Catalá-López F, Cavalleri F, Çavlin A, Chadha VK, Chang JC, Charlson FJ, Chen H, Chen W, Chen Z, Chiang PP, Chimed-Ochir O, Chowdhury R, Christophi CA, Chuang TW, Chugh SS, Cirillo M, Claßen TK, Colistro V, Colomar M, Colquhoun SM, Contreras AG, Cooper C, Cooperrider K, Cooper LT, Coresh J, Courville KJ, Criqui MH, Cuevas-Nasu L, Damsere-Derry J, Danawi H, Dandona L, Dandona R, Dargan PI, Davis A, Davitoiu DV, Dayama A, de Castro EF, De la Cruz-Góngora V, De Leo D, de Lima G, Degenhardt L, del Pozo-Cruz B, Dellavalle RP, Deribe K, Derrett S, Des Jarlais DC, Dessalegn M, deVeber GA, Devries KM, Dharmaratne SD, Dherani MK, Dicker D, Ding EL, Dokova K, Dorsey ER, Driscoll TR, Duan L, Durrani AM, Ebel BE, Ellenbogen RG, Elshrek YM, Endres M, Ermakov SP, Erskine HE, Eshrati B, Esteghamati A, Fahimi S, Faraon EJ, Farzadfar F, Fay DF, Feigin VL, Feigl AB, Fereshtehnejad SM, Ferrari AJ, Ferri CP, Flaxman AD, Fleming TD, Foigt N, Foreman KJ, Paleo UF, Franklin RC, Gabbe B, Gaffikin L, Gakidou E, Gamkrelidze A, Gankpé FG, Gansevoort RT, García-Guerra FA, Gasana E, Geleijnse JM, Gessner BD, Gething P, Gibney KB, Gillum RF, Ginawi IA, Giroud M, Giussani G, Goenka S, Goginashvili K, Gomez Dantes H, Gona P, de Gonzalez Cosio T, González-Castell D, Gotay CC, Goto A, Gouda HN, Guerrant RL, Gugnani HC, Guillemin F, Gunnell D, Gupta R, Gupta R, Gutiérrez RA, Hafezi-Nejad N, Hagan H, Hagstromer M, Halasa YA, Hamadeh RR, Hammami M, Hankey GJ, Hao Y, Harb HL, Haregu TN, Haro JM, Havmoeller R, Hay SI, Hedayati MT, Heredia-Pi IB, Hernandez L, Heuton KR, Heydarpour P, Hijar M, Hoek HW, Hoffman HJ, Hornberger JC, Hosgood HD, Hoy DG, Hsairi M, Hu G, Hu H, Huang C, Huang JJ, Hubbell BJ, Huiart L, Husseini A, Iannarone ML, Iburg KM, Idrisov BT, Ikeda N, Innos K, Inoue M, Islami F, Ismayilova S, Jacobsen KH, Jansen HA, Jarvis DL, Jassal SK, Jauregui A, Jayaraman S, Jeemon P, Jensen PN, Jha V, Jiang F, Jiang G, Jiang Y, Jonas JB, Juel K, Kan H, Kany Roseline SS, Karam NE, Karch A, Karema CK, Karthikeyan G, Kaul A, Kawakami N, Kazi DS, Kemp AH, Kengne AP, Keren A, Khader YS, Khalifa SE, Khan EA, Khang YH, Khatibzadeh S, Khonelidze I, Kieling C, Kim D, Kim S, Kim Y, Kimokoti RW, Kinfu Y, Kinge JM, Kissela BM, Kivipelto M, Knibbs LD, Knudsen AK, Kokubo Y, Kose MR, Kosen S, Kraemer A, Kravchenko M, Krishnaswami S, Kromhout H, Ku T, Kuate Defo B, Kucuk Bicer B, Kuipers EJ, Kulkarni C, Kulkarni VS, Kumar GA, Kwan GF, Lai T, Lakshmana Balaji A, Lalloo R, Lallukka T, Lam H, Lan Q, Lansingh VC, Larson HJ, Larsson A, Laryea DO, Lavados PM, Lawrynowicz AE, Leasher JL, Lee JT, Leigh J, Leung R, Levi M, Li Y, Li Y, Liang J, Liang X, Lim SS, Lindsay MP, Lipshultz SE, Liu S, Liu Y, Lloyd BK, Logroscino G, London SJ, Lopez N, Lortet-Tieulent J, Lotufo PA, Lozano R, Lunevicius R, Ma J, Ma S, Machado VM, MacIntyre MF, Magis-Rodriguez C, Mahdi AA, Majdan M, Malekzadeh R, Mangalam S, Mapoma CC, Marape M, Marcenes W, Margolis DJ, Margono C, Marks GB, Martin RV, Marzan MB, Mashal MT, Masiye F, Mason-Jones AJ, Matsushita K, Matzopoulos R, Mayosi BM, Mazorodze TT, McKay AC, McKee M, McLain A, Meaney PA, Medina C, Mehndiratta MM, Mejia-Rodriguez F, Mekonnen W, Melaku YA, Meltzer M, Memish ZA, Mendoza W, Mensah GA, Meretoja A, Mhimbira FA, Micha R, Miller TR, Mills EJ, Misganaw A, Mishra S, Mohamed Ibrahim N, Mohammad KA, Mokdad AH, Mola GL, Monasta L, Montañez Hernandez JC, Montico M, Moore AR, Morawska L, Mori R, Moschandreas J, Moturi WN, Mozaffarian D, Mueller UO, Mukaigawara M, Mullany EC, Murthy KS, Naghavi M, Nahas Z, Naheed A, Naidoo KS, Naldi L, Nand D, Nangia V, Narayan KM, Nash D, Neal B, Nejjari C, Neupane SP, Newton CR, Ngalesoni FN, Ngirabega Jde D, Nguyen G, Nguyen NT, Nieuwenhuijsen MJ, Nisar MI, Nogueira JR, Nolla JM, Nolte S, Norheim OF, Norman RE, Norrving B, Nyakarahuka L, Oh IH, Ohkubo T, Olusanya BO, Omer SB, Opio JN, Orozco R, Pagcatipunan RS, Jr AW, Pain JD, Pandian CI, Panelo C, Papachristou EK, Park CD, Parry AJ, Paternina Caicedo SB, Patten VK, Paul BI, Pavlin N, Pearce LS, Pedraza A, Pedroza L, Pejin Stokic A, Pekericli DM, Pereira R, Perez-Padilla F, Perez-Ruiz N, Perico SA, Perry A, Pervaiz K, Pesudovs CB, Peterson M, Petzold MR, Phillips HP, Phua D, Plass D, Poenaru GV, Polanczyk S, Polinder CD, Pond CA, Pope D, Pope S, Popova F, Pourmalek J, Powles D, Prabhakaran NM, Prasad D, Qato AD, Quezada DA, Quistberg L, Racapé A, Rafay K, Rahimi V, Rahimi-Movaghar SU, Rahman M, Raju I, Rakovac SM, Rana M, Rao H, Razavi KS, Reddy AH, Refaat J, Rehm G, Remuzzi AL, Ribeiro PM, Riccio L, Richardson A, Riederer M, Robinson A, Roca A, Rodriguez D, Rojas-Rueda I, Romieu L, Ronfani R, Room N, Roy GM, Ruhago L, Rushton N, Sabin RL, Sacco S, Saha R, Sahathevan MA, Sahraian JA, Salomon D, Salvo UK, Sampson JR, Sanabria L, Sanchez TG, Sánchez-Pimienta L, Sanchez-Riera L, Sandar IS, Santos A, Sapkota M, Satpathy JE, Saunders M, Sawhney MI, Saylan P, Scarborough JC, Schmidt IJ, Schneider B, Schöttker DC, Schwebel JG, Scott S, Seedat SG, Sepanlou B, Serdar EE, Servan-Mori G, Shaddick S, Shahraz TS, Levy S, Shangguan J, She S, Sheikhbahaei K, Shibuya HH, Shin Y, Shinohara R, Shiri K, Shishani I, Shiue ID, Sigfusdottir DH, Silberberg EP, Simard S, Sindi A, Singh GM, Singh JA, Singh V, Skirbekk K, Sliwa M, Soljak S, Soneji K, Søreide S, Soshnikov LA, Sposato CT, Sreeramareddy NJ, Stapelberg V, Stathopoulou N, Steckling DJ, Stein MB, Stein N, Stephens H, Stöckl K, Straif K, Stroumpoulis L, Sturua BF, Sunguya S, Swaminathan M, Swaroop BL, Sykes KM, Tabb K, Takahashi RT, Talongwa N, Tandon D, Tanne M, Tanner M, Tavakkoli BJ, Te Ao CM, Teixeira MM, Téllez Rojo AS, Terkawi JL, Texcalac-Sangrador SV, Thackway B, Thomson AL, Thorne-Lyman AG, Thrift GD, Thurston T, Tillmann M, Tobollik M, Tonelli F, Topouzis JA, Towbin H, Toyoshima J, Traebert BX, Tran L, Trasande M, Trillini U, Trujillo ZT, Dimbuene M, Tsilimbaris EM, Tuzcu US, Uchendu KN, Ukwaja SB, Uzun S, van de Vijver R, Van Dingenen CH, van Gool J, van Os YY, Varakin TJ, Vasankari AM, Vasconcelos MS, Vavilala LJ, Veerman G, Velasquez-Melendez N, Venketasubramanian L, Vijayakumar S, Villalpando FS, Violante VV, Vlassov SE, Vollset GR, Wagner SG, Waller MT, Wallin X, Wan H, Wang J, Wang L, Wang W, Wang Y, Wang TS, Warouw CH, Watts S, Weichenthal E, Weiderpass RG, Weintraub A, Werdecker KR, Wessells R, Westerman HA, Whiteford JD, Wilkinson HC, Williams TN, Williams SM, Woldeyohannes CD, Wolfe JQ, Wong AD, Woolf JL, Wright B, Wurtz G, Xu LL, Yan G, Yang Y, Yano P, Ye M, Yenesew GK, Yentür P, Yip N, Yonemoto SJ, Yoon MZ, Younis Z, Younoussi C, Yu ME, Zaki Y, Zhao Y, Zheng M, Zhou J, Zhu S, Zhu X, Zou JR, Zunt AD, Lopez T, Vos CJ, Murray . (2015). Global, regional, and national comparative risk assessment of 79 behavioural, environmental and occupational, and metabolic risks or clusters of risks in 188 countries, 1990-2013: a systematic analysis for the Global Burden of Disease Study 2013.. Lancet (London, England). Vol. 386. Issue 10010. Page(s) 2287-323.
Qato D, Manzoor BS, Lee TA. (2015). Drug-Alcohol Interactions in Older U.S. Adults.. Journal of the American Geriatrics Society. Vol. 63. Issue 11. Page(s) 2324-31.
Daubresse M, Hutfless S, Kim Y, Kornfield R, Qato D, Huang J, Miller K, Emery SL, Alexander GC. (2015). Effect of Direct-to-Consumer Advertising on Asthma Medication Sales and Healthcare Use.. American journal of respiratory and critical care medicine. Vol. 192. Issue 1. Page(s) 40-6.
Kornfield R, Alexander GC, Qato D, Kim Y, Hirsch JD, Emery SL. (2015). Trends in exposure to televised prescription drug advertising, 2003-2011.. American journal of preventive medicine. Vol. 48. Issue 5. Page(s) 575-9.
Saadeh R, Qato D, Khader A, Shahin Y, Seita A. (2015). Trends in the utilization of antihypertensive medications among Palestine refugees in Jordan, 2008-2012.. Journal of pharmaceutical policy and practice. Vol. 8. Issue 1. Page(s) 17.
Qato D, Daviglus ML, Wilder JA, Lee T, Qato D, Lambert B. (2014). 'Pharmacy deserts' are prevalent in Chicago's predominantly minority communities, raising medication access concerns.. Health affairs (Project Hope). Vol. 33. Issue 11. Page(s) 1958-65.
McConeghy KW, Bress A, Qato D, Wing C, Nutescu EA. (2014). Evaluation of dabigatran bleeding adverse reaction reports in the FDA adverse event reporting system during the first year of approval.. Pharmacotherapy. Vol. 34. Issue 6. Page(s) 561-9.
Qato D, Alexander GC. (2012). Just because it's low cost doesn't mean it's accessible.. Journal of general internal medicine. Vol. 27. Issue 10. Page(s) 1233-4.
Kirley K, Qato D, Kornfield R, Stafford RS, Alexander GC. (2012). National trends in oral anticoagulant use in the United States, 2007 to 2011.. Circulation. Cardiovascular quality and outcomes. Vol. 5. Issue 5. Page(s) 615-21.
Qato D, Alexander GC. (2011). Improving the Food and Drug Administration's mandate to ensure postmarketing drug safety.. JAMA. Vol. 306. Issue 14. Page(s) 1595-6.
Lindau ST, Tang H, Gomero A, Vable A, Huang ES, Drum ML, Qato D, Chin MH. (2010). Sexuality among middle-aged and older adults with diagnosed and undiagnosed diabetes: a national, population-based study.. Diabetes care. Vol. 33. Issue 10. Page(s) 2202-10.
Qato D, Lindau ST, Conti RM, Schumm LP, Alexander GC. (2010). Racial and ethnic disparities in cardiovascular medication use among older adults in the United States.. Pharmacoepidemiology and drug safety. Vol. 19. Issue 8. Page(s) 834-42.
Qato D, Schumm LP, Johnson ME, Mihai A, Lindau ST. (2009). Medication data collection and coding in a home-based survey of older adults.. The journals of gerontology. Series B, Psychological sciences and social sciences. Vol. 64 Suppl 1. Page(s) i86-93.
Qato D, Alexander GC, Conti RM, Johnson ME, Schumm P, Lindau ST. (2008). Use of prescription and over-the-counter medications and dietary supplements among older adults in the United States.. JAMA. Vol. 300. Issue 24. Page(s) 2867-78.
Qato D, Doocy S, Tsuchida D, Greenough PG, Burnham G. (2007). West Bank barrier decreases access to schools and health services.. Prehospital and disaster medicine. Vol. 22. Issue 4. Page(s) 263-6.
Qato D. (2004). The politics of deteriorating health: the case of Palestine.. International journal of health services : planning, administration, evaluation. Vol. 34. Issue 2. Page(s) 341-64.