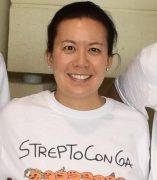 Jennifer C Chang

Senior Research Specialist, Center for Biomolecular Sciences
Research Assistant Professor, Pharmaceutical Sciences
Contact
Building & Room:
MBRB Rm 3156
Address:
900 S. Ashland Avenue, Chicago, IL, 60607
Email:
Selected Publications
Wilkening RV, Chang JC, Federle M. PepO, a CovRS-controlled endopeptidase, disrupts Streptococcus pyogenes quorum sensing. Mol Microbiol. 2016;99(1):71-87.
Chang JC, Jimenez JC, Federle M. Induction of a quorum sensing pathway by environmental signals enhances group A streptococcal resistance to lysozyme. Mol Microbiol. 2015;97(6):1097-113.
Lasarre BC, Chang J, Federle M. Redundant group a streptococcus signaling peptides exhibit unique activation potentials. J Bacteriol. 2013;195(18):4310-8.
Chang JC, LaSarre BC, Jimenez J, Aggarwal C, Federle M. Two group A streptococcal peptide pheromones act through opposing Rgg regulators to control biofilm development. PLoS Pathog. 2011;7(8):e1002190.