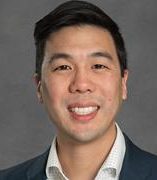 James C. Lee

Clinical Associate Professor, Pharmacy Practice
Curriculum Leader, Professional Development, College of Pharmacy
Co-Director & Clinical Pharmacist, Pharmacogenomics, University of Illinois Hospital & Health Sciences System
Program Director, UIC/NorthShore Pharmacogenomics Residency, University of Illinois Chicago
Contact
Address:
833 S Wood St MC 886, Chicago, IL
Office Phone:
Email:
Related Sites:
Overview:
James C. Lee, PharmD, FCCP, AACC, BCACP serves as clinical lead and co-director of the Precision Medicine Program at the University of Illinois Hospital & Clinics, with a focus on the application of cardiovascular pharmacogenomics and the advancement of patients understanding and utilization of personal genetic information. His clinical responsibilities also include serving as an ambulatory care clinical pharmacist providing comprehensive anticoagulation management in pediatric, adult, and geriatric patient populations. Additionally, Dr. Lee serves as the Curriculum Leader for Professional Development and the College of Pharmacy's Pharmacy Learning, Advising, Mentoring, and Education for Students (PhLAMES) course series and as Program Director of the UIC/NorthShore PGY2 Clinical Pharmacogenomics Residency program.
Research Interests:
Focus 1: Evaluation and optimization of clinical pharmacist-delivered medication management services in the context of ambulatory care settings and applied pharmacogenomics.
Focus 2: Professionalization in clinical pharmacy education relating to American student pharmacists and international trainee self-actualization.
Teaching Statement:
1) Pharmacotherapy/medication management in ambulatory care settings (thrombosis, endocrinology, renal, cardiovascular, geriatric medicine), 2) Pharmacogenomics, 3) Professionalization and professional development.
PhLAMES 2 (PHAR 466), 1/10/2022 – 4/29/2022
Undergrad Resrch Pharm Pract (PMPR 380), 1/10/2022 – 4/29/2022
Special Topics: Advanced (NUEL 593), 1/10/2022 – 4/29/2022
Ambulatory Care Advanced Pharmacy Practice Experience (PHAR 601), 1/2022 – 5/2022
Patient Care: Institutional/Hospital (PHAR 515), 1/2022 – 5/2022
Pathophysiology, Drug Action, and Therapeutics 2 (PHAR 502), 1/2022 – 5/2022
Honors Seminar: A decade of pharmacy experiences: From pharmacy student to pharmacist in the workforce (HON 201), 1/2022 – 5/2022
Clinical Applications (PHAR 520), 8/23/2021 – 12/3/2021
PhLAMES 1 (PHAR 465), 8/23/2021 – 12/3/2021
Selected Grants
Arterial and Venous Thrombosis in Hospitalized COVID-19 patients: A National Multicenter Cohort Study, CDC, National Blood Clot Alliance, Association of University Centers on Disabilities., 11/9/2021 - 11/8/2024, Obligated Amount: $16000; Anticipated Amount: $16000
COVID19 ACTIV-4 Research Communications Center, NIH/NHLBI., 7/2020 - Present, No Obligated Amount Set; No Anticipated Amount Set
African American Cardiovascular Pharmacogenetic Consortium (Account): Discovery and Translation Part 2, Northwestern University., 8/19/2016 - 5/31/2021, Obligated Amount: $475207; Anticipated Amount: $475207
Selected Publications
Lee, James, Zobeck, Bryan, Nutescu, Edith. (2022). Venous Thromboembolism. Pharmacotherapy Principles and Practice, Sixth Edition. (pp. 213-242). McGraw-Hill Education / Medical.
Beitelshees, Amber L, Thomas, Cameron D, Empey, Philip E, Stouffer, George A, Angiolillo, Dominick J, Franchi, Francesco, Tuteja, Sony, Limdi, Nita A, Lee, James C, Duarte, Julio D, Kreutz, Rolf P, Skaar, Todd C, Coons, James C, Giri, Jay, McDonough, Caitrin W, Rowland, Rachel, Stevenson, James M, Thai, Thuy, Vesely, Mark R, Wellen, Jacob T, Johnson, Julie A, Winterstein, Almut G, Cavallari, Larisa H, Lee, Craig R, Group, Implementing Genomics in Practice Network Pharmacogenetics Working. (2022). CYP2C19 Genotype‐Guided Antiplatelet Therapy After Percutaneous Coronary Intervention in Diverse Clinical Settings. Journal of the American Heart Association, 11, (4), e024159. doi:10.1161/jaha.121.024159.
Zolekar, Ashwini, Kim, Kibum, Lee, James C, Han, Jin, Duarte, Julio D, Galanter, William L, Cavallari, Larisa H, Nutescu, Edith A. (2022). Changing from mandatory to optional genotyping results in higher acceptance of pharmacist-guided warfarin dosing. Pharmacogenomics, 23, (2), 85-95. doi:10.2217/pgs-2021-0109.
Saulsberry, Loren, Danahey, Keith, Middlestadt, Merisa, O'Leary, Kevin J, Nutescu, Edith A, Chen, Thomas, Lee, James C, Ruhnke, Gregory W, George, David, House, Larry, van Wijk, Xander MR, Yeo, Kiang-Teck J, Choksi, Anish, Hartman, Seth W, Knoebel, Randall W, Friedman, Paula N, Rasmussen, Luke V, Ratain, Mark J, Perera, Minoli A, Meltzer, David O, O'Donnell, Peter H. (2021). Applicability of Pharmacogenomically Guided Medication Treatment during Hospitalization of At-Risk Minority Patients. Journal of Personalized Medicine, 11, (12), 1343. doi:10.3390/jpm11121343.
Duarte, JD, Dalton, R, Elchynski, AL, Smith, DM, Cicali, EJ, Lee, JC, Duong, BQ, Petry, NJ, Aquilante, CL, Beitelshees, AL, Empey, PE, Johnson, JA, Obeng, AO, Pasternak, AL, Pratt, VM, Ramsey, LB, Tuteja, S, Van Driest, SL, Wiisanen, K, Hicks, JK, Cavallari, LH. (2021). Multisite investigation of strategies for the clinical implementation of pre-emptive pharmacogenetic testing. Genetics in Medicine, 23, (12), 2335-2341. doi:10.1038/s41436-021-01269-9.
Elmasri, Annesti F, Hur, Heejin, Han, Jin, Lee, James C. (2021). Genotype-Guided vs Clinically-Guided Stable Warfarin Dose Prediction and Stable Dose Establishment In A Predominantly Non-European Ancestry Population. Expert Review of Precision Medicine and Drug Development, 6, (6), 375-379. doi:10.1080/23808993.2021.1989303.
Kido, Kazuhiko, Ghaffar, Yasir Abdul, Lee, James C, Bianco, Christopher, Shimizu, Mikiko, Shiga, Tsuyoshi, Hashiguchi, Masayuki. (2021). Meta-analysis comparing direct oral anticoagulants versus vitamin K antagonists in patients with left ventricular thrombus. PLOS ONE, 16, (6), e0252549. doi:10.1371/journal.pone.0252549.
Rahman, Syeda, Srisuwananukorn, Andrew, Molokie, Robert E, Gowhari, Michel, Njoku, Franklin, Hussain, Faiz Ahmed, Lee, James, Nutescu, Edith A, Gordeuk, Victor R, Saraf, Santosh L, Han, Jin. (2021). Evaluation of point‐of‐care International Normalized Ratio in sickle cell disease. Research and Practice in Thrombosis and Haemostasis, 5, (4), e12533. doi:10.1002/rth2.12533.
Lee, James C, Lin, Po-Hung, Haaf, Christina M. (2021). Opportunities for recruiting international graduates of doctor of pharmacy programs for residency training: An academic health center perspective.. American Journal of Health-System Pharmacy, 78, (12), 1137-1144. doi:10.1093/ajhp/zxab136.
Professional Leadership
RxGenomix Advisory Board, RxGenomix, 12/2021 - Present
Pharmacokinetics/Pharmacodynamics/Pharmacogenomics PRN Programming Committee, American College of Clinical Pharmacy, 10/2021 - Present
Credentials: Fellowship Committee, American College of Clinical Pharmacy, 10/2021 - Present
Cardiology Basics Certificate Program, American Society of Health-System Pharmacists, 8/2021 - 4/2022
Pharmacogenomics Certificate Program, American Society of Health-System Pharmacists, 4/2021 - 4/2021
School of Pharmacy Alumni Association Board of Directors, Texas Tech University Health Sciences Center, 3/2021 - Present
Pharmacy Engagement in Patient Medication Education Survey Panel, American Society of Health-System Pharmacists, 1/2021 - 1/2021
Pharmacokinetics/Pharmacodynamics/Pharmacogenomics PRN Outreach Committee, American College of Clinical Pharmacy, 10/2020 - 10/2021
School of Pharmacy Website and Marketing Committee, Texas Tech University Health Sciences Center, 2020 - 12/2021
Notable Honors
2021, Genentech Award for Excellence in Research (Clinical, Social, and Applied Sciences), College of Pharmacy
2021, Best Student Poster Finalist, American College of Clinical Pharmacy
2021, Associate, American College of Cardiology
2020, Fellow, American College of Clinical Pharmacy
2020, Top Abstracts, Cardiovascular Research Technologies
2015, Award for Excellence in Medication-Use Safety Finalist, ASHP Research and Education Foundation
2015, Award for Excellence in Research - Clinical, Social, and Applied Sciences Prize, 2nd Place, University of Illinois at Chicago
2014, Caught in the Act Award, University of Illinois Hospital & Health Sciences System
2014, Employee of the Month, University of Illinois Hospital & Health Sciences System
Education
Degrees:
PharmD, Texas Tech University Health Sciences Center, United States, 2010
Pre-Pharmacy, The University of Texas at Austin, United States, 2006
Postgraduate Training:
Faculty Teaching Fellowship (Scholars for Teaching Excellence Faculty Fellowship), University of Illinois College of Medicine, United States, 2020
PGY-2 Ambulatory Care Pharmacy Residency, University of Iowa Hospital & Clinics, United States, 2012
PGY-1 Pharmacy Practice Residency, University of Iowa Hospital & Clinics, United States, 2011
Licensures and Certifications
BCACP, Board of Pharmacy Specialties, 12/30/2012 - Present