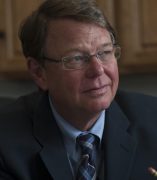 Jerry Bauman, PharmD, FCCP, FACC

Dean Emeritus and UIC Distinguished Professor Emeritus, Pharmacy Practice
Interim Vice President for Health Affairs, Health Systems Science
Editor-in-Chief JACCP, Pharmacy Practice
Contact
Building & Room:
112B PHARM
Address:
833 S. Wood Street, Chicago, Illinois, 60612
Office Phone:
Fax:
Email:
CV Link:
About
Research Interests: Dr. Bauman has published extensively in the area of antiarrhythmic drug safety and efficacy.
Teaching Interests: Jerry L. Bauman, PharmD is Dean and Professor at the University of Illinois at Chicago (UIC) College of Pharmacy. He is also Professor in the Department of Medicine, Section of Cardiology. Dr. Bauman received his BS in pharmacy at the University of Illinois at the Medical Center and PharmD from the University of Missouri-Kansas City. He completed residencies in hospital pharmacy and clinical pharmacy at the University of Illinois Hospital and Truman Medical Center, respectively. Dr. Bauman's area of research is the clinical pharmacology of cocaine and those drugs used to treat cardiac rhythm disorders (specifically, drug-induced arrhythmias). He has published extensively in these areas and was given the Russell Miller Award for Research from the American College of Clinical Pharmacy in 1994 as a result. Among Dr. Bauman's other honors are election as fellow in the American College of Cardiology (first PharmD), election as fellow in the American College of Clinical Pharmacy and election as Distinguished Practitioner in the National Academy of Practice. He is also a past president of the American College of Clinical Pharmacy.
In addition to his scientific and professional contributions, Dr. Bauman is an experienced academic administrator. During his tenure as Dean, the UIC College of Pharmacy has been ranked consistently in the top 5 of all US colleges of pharmacy, both for research and academic programs. Dr. Bauman has also served as the (interim) Vice Chancellor for Academic Affairs and Provost at UIC where he led the academic enterprise, including the successful recruitment of several deans. During his more than 2 years as (interim) Vice President for Health Affairs for the University of Illinois system, he oversaw the reorganization of the health science center in Chicago, the creation of an accountable care entity, the alignment of UIC College of Medicine with the UI Hospital, substantial growth in clinical volumes including multiple partnerships with other health care providers and organizations.
Selected Publications
DiDomenico RJ, Bress AP, Na-Thalang KY, Tsao YL, Groo VL, Deyo KR, Patel SR, Bishop J, Bauman J. Use of a simplified nomogram to individualize digoxin dosing versus standard dosing practices in patients with heart failure.. Pharmacotherapy. 2014;34(11):1121-31. doi:10.1002/phar.1480.
Awé C, Bauman J. Theoretical and conceptual framework for a high school pathways to pharmacy program.. American journal of pharmaceutical education. 2010;74(8):149.
Bauman J, DiDomenico RJ, Viana M, Fitch M. A method of determining the dose of digoxin for heart failure in the modern era.. Archives of internal medicine. 2006;166(22):2539-45. doi:10.1001/archinte.166.22.2539.
Bauman J, DiDomenico RJ, Galanter WL. Mechanisms, manifestations, and management of digoxin toxicity in the modern era.. American journal of cardiovascular drugs : drugs, devices, and other interventions. 2006;6(2):77-86.
Bauman J, DiDomenico RJ. Cocaine-induced channelopathies: emerging evidence on the multiple mechanisms of sudden death.. Journal of cardiovascular pharmacology and therapeutics. 2002;7(3):195-202.
Sanoski CA, Bauman J. Clinical observations with the amiodarone/warfarin interaction: dosing relationships with long-term therapy.. Chest. 2002;121(1):19-23.
Schoen MD, DiDomenico RJ, Connor SE, Dischler JE, Bauman J. Impact of the cost of prescription drugs on clinical outcomes in indigent patients with heart disease.. Pharmacotherapy. 2001;21(12):1455-63.
DiDomenico RJ, Walton SM, Sanoski CA, Bauman J. Analysis of the use of digoxin immune fab for the treatment of non-life-threatening digoxin toxicity.. Journal of cardiovascular pharmacology and therapeutics. 2000;5(2):77-85.
Phillips BG, Gandhi AJ, Sanoski CA, Just VL, Bauman J. Comparison of intravenous diltiazem and verapamil for the acute treatment of atrial fibrillation and atrial flutter.. Pharmacotherapy. 1997;17(6):1238-45.
Gandhi AJ, Murphy CM, Zervopoulos PC, Evans RE, Carter BL, Bauman J. Evaluation of two forms of sustained release nifedipine using 24 h ambulatory blood pressure monitoring.. American journal of hypertension. 1997;10(9 Pt 1):992-6.
Liu D, Hariman RJ, Bauman J. Cocaine concentration-effect relationship in the presence and absence of lidocaine: evidence of competitive binding between cocaine and lidocaine.. The Journal of pharmacology and experimental therapeutics. 1996;276(2):568-77.
Oberg KC, Bauman J. QT interval prolongation and torsades de pointes due to erythromycin lactobionate.. Pharmacotherapy. 1995;15(6):687-92.
Bauman J, Grawe JJ, Winecoff AP, Hariman RJ. Cocaine-related sudden cardiac death: a hypothesis correlating basic science and clinical observations.. Journal of clinical pharmacology. 1994;34(9):902-11.
Oberg KC, O'Toole MF, Gallastegui JL, Bauman J. "Late" proarrhythmia due to quinidine.. The American journal of cardiology. 1994;74(2):192-4.
Beckman KJ, Parker RB, Hariman RJ, Gallastegui JL, Javaid JI, Bauman J. Hemodynamic and electrophysiological actions of cocaine. Effects of sodium bicarbonate as an antidote in dogs.. Circulation. 1991;83(5):1799-807.
Bauman J, Berk SI, Hariman RJ, Langenberg PW, Deal BJ, Beckman K, Brownstein S, Gallastegui J. Amiodarone for sustained ventricular tachycardia: efficacy, safety, and factors influencing long-term outcome.. American heart journal. 1987;114(6):1436-44.
Bauman J, Gallastegui J, Strasberg B, Swiryn S, Hoff J, Welch WJ, Bauernfeind RA. Long-term therapy with disopyramide phosphate: side effects and effectiveness.. American heart journal. 1986;111(4):654-60.
Bauman J, Bauernfeind RA, Hoff JV, Strasberg B, Swiryn S, Rosen KM. Torsade de pointes due to quinidine: observations in 31 patients.. American heart journal. 1984;107(3):425-30.
Notable Honors
2003, William Au Lecturer, SUNY-Syracuse Department of Medicine,
2001, UIC College of Pharmacy - Dean's Award for contributions to the profession,
2000, Howard Ferguson Lecturer, University of North Carolina,
1999, Robert G. Leonard Memorial Lecturer, University of Texas
1997, Distinguished Member (elected), National Academy of Practitioners,
1994, Russell R. Miller Award for Research Contributions, American College of Clinical Pharmacy
1991, American Heart Association of Metropolitan Chicago Gold Award for Research,
1989, University of Illinois College of Pharmacy Alumni Loyalty Award,
1988, Outstanding Teacher of the Year Award,
1984, Golden Apple Award for best instructor,
1984, Outstanding Teacher of the Year Award,
1983, Golden Apple Award for best instructor,
Education
CIC Fellowship in Academic Administration, CIC Fellowship in Academic Administration, University of Illinois at Chicago, Chicago, IL
Clinical Pharmacy Resident, Clinical Pharmacy Resident, University of Missouri at Kansas City, Kansas City, Missouri
PharmD, University of Missouri-Kansas City
Hospital Pharmacy Resident, University of Illinois Hospital, Chicago, Illinois
BS, Pharmacy, University of Illinois at the Medical Center