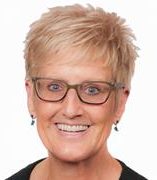 Linda M. Grider

Clinical Assistant Professor, College of Pharmacy
Contact
Address:
800 S. Wood St Rm 164, Chicago, IL
Email:
Related Sites:
Overview:
I have been fortunate to live and practice during 46 years of pharmacy evolution! The profession of pharmacy is one that never stands still. It lives and breathes in a constant state of change. That is the huge appeal to this profession. It's a commitment to life long learning and the appreciation that your neurons will never stop firing. There are so many varied opportunities available to current and future students. Working with students is a source of fresh oxygen for me. I am in awe of what our students go on to accomplish! As a professional and educator, I am so proud to be a member of this faculty and hope to continue for years to come! Go UIC COP!
Teaching Statement:
Co-coordinating & teaching in the Pharmacy Management & Informatics course is a source of great joy for me. Having worked in an administrative role for decades allows me to bring to life management topics covered in this course. Teaching this type of course material can be a challenge in such a strong clinical curriculum. Nonetheless, aspects of management and informatics are essential to future practitioners!
Management and Informatics (PHAR 566), 1/10/2022 – 4/29/2022
Management and Informatics (PHAR 566), 1/10/2022 – 4/29/2022
PhLAMES 6 (PHAR 470), 1/10/2022 – 4/29/2022
PhLAMES 5 (PHAR 469), 8/23/2021 – 12/3/2021
Management and Informatics (PHAR 566), 1/11/2021 – 4/30/2021
Management and Informatics (PHAR 566), 1/11/2021 – 4/30/2021
PhLAMES 6 (PHAR 470), 1/11/2021 – 4/30/2021
PhLAMES 5 (PHAR 469), 8/24/2020 – 12/4/2020
Management and Informatics (PHAR 566), 1/13/2020 – 5/1/2020
Notable Honors
2018, Faculty Rho Chi, UIC COP
2007, UIC Chancellor's Award of Merit, John DeNardo UIH CEO
2006, Hospital Administration Leadership Award, John DeNardo UIH CEO
Education
Degrees:
MBA (Master of Business Administration), Benedictine University, United States, 1979
BSPharm (Bachelor of Pharmacy), University of Illinois at Chicago, United States, 1975
Pre-Pharmacy, University of Illinois at Chicago, United States, 1972