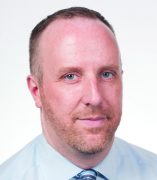 Michael P. Gabay

Clinical Associate Professor, Pharmacy Practice
Director, Drug Information Group
Contact
Address:
833 South Wood Street, Chicago, IL, 60612
Office Phone:
Fax:
Email:
CV Link:
Related Sites:
About
Research Interests: Dr. Gabay's areas of interest include drug information, legal issues related to healthcare, and prior authorization.
Selected Publications
Gabay MP. (2017). The Evolution of Drug Information Centers and Specialists.. Hospital pharmacy. Vol. 52. Issue 7. Page(s) 452-453.
Gabay MP, Wirth SM, Stachnik JM, Overley CL, Long KE, Bressler LR, Villano JL. Oral Targeted Therapies and Central Nervous System (CNS) Metastases.. CNS drugs. 2015;29(11):935-52. doi:10.1007/s40263-015-0283-6.
Letarte N, Gabay MP, Bressler LR, Long KE, Stachnik JM, Villano JL. Analyzing temozolomide medication errors: potentially fatal.. Journal of neuro-oncology. 2014;120(1):111-5. doi:10.1007/s11060-014-1523-1.
Gabay MP, Thakkar JP, Stachnik JM, Woelich SK, Villano JL. Intra-CSF administration of chemotherapy medications.. Cancer chemotherapy and pharmacology. 2012;70(1):1-15. doi:10.1007/s00280-012-1893-z.
Phillips JA, Gabay MP, Ficzere C, Ward KE. Curriculum and instructional methods for drug information, literature evaluation, and biostatistics: survey of US pharmacy schools.. The Annals of pharmacotherapy. 2012;46(6):793-801. doi:10.1345/aph.1Q813.
Mancuso CE, Gabay MP, Steinke LM, Vanosdol SJ. Peramivir: an intravenous neuraminidase inhibitor for the treatment of 2009 H1N1 influenza.. The Annals of pharmacotherapy. 2010;44(7-8):1240-9. doi:10.1345/aph.1P031.
Gabay MP, Costianis R. Restricted drug distribution programs.. American journal of health-system pharmacy : AJHP : official journal of the American Society of Health-System Pharmacists. 2003;60(15):1525-30.
Tanzi MG, Gabay MP. Association between honey consumption and infant botulism.. Pharmacotherapy. 2002;22(11):1479-83.
Gabay MP, Jain R. Role of antibiotics for the prevention of cardiovascular disease.. The Annals of pharmacotherapy. 2002;36(10):1629-36.
Gabay MP. Galactogogues: medications that induce lactation.. Journal of human lactation : official journal of International Lactation Consultant Association. 2002;18(3):274-9.
Stachnik JM, Gabay MP. Continuous infusion of coagulation factor products.. The Annals of pharmacotherapy. 2002;36(5):882-91.
Mategrano VA, Gabay MP. Misoprostol in the prevention of postpartum hemorrhage.. The Annals of pharmacotherapy. 2001;35(12):1648-52.
Notable Honors
2017, Fellow of the American College of Clinical Pharmacy, American College of Clinical Pharmacy
2016, Distinguished Drug Information Practitioner Award, ACCP Drug Information PRN
Education
JD, Loyola University of Chicago
Drug Information Residency, University of Illinois at Chicago, Chicago, IL
Pharmacy Practice Residency, Fairview-University Medical Center
PharmD, University of Minnesota
BS, University of Minnesota, Minneapolis, MN
Licensures and Certifications
Board of Pharmaceutical Specialties, Board Certified Pharmacotherapy Specialist, 2000
Illinois, Pharmacist License, 1998
Minnesota, Pharmacist License, 1997