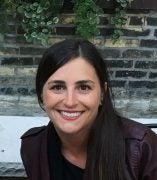 Sarah M Michienzi

Visiting Clinical Assistant Professor/Clinical Pharmacist, Pharmacy Practice
Contact
Building & Room:
833 S. Wood Street Chicago, IL 60612
Office Phone:
Office Phone TTY:
Email:
About
HIV pharmacotherapy, pharmacists' roles in infectious diseases treatment and prevention, HIV prevention (specifically HIV PrEP), telemedicine, HIV-HCV co-infection, HIV in incarcerated populations, HIV in underserved populations
Selected Publications
Smith RO, Michienzi S. "HIV PrEP: Role of the Clinical Pharmacist". HIV Specialist. 2018;.
Burgos RM, Michienzi S. "Chapter 147. HIV Infection". Schwinghammer TL, Koehler JM, Borchert JS, Slain D. Pharmacotherapy Casebook and Care Plans. New York, NY: McGraw-Hill Pub; 2017:
Badowski M, Michienzi S, Robles M. "Examining the Implications of New Healthcare Technologies (Analytical and Remote Monitoring) in Clinical Pharmacy Practice". The Pharmaceutical Journal. 2017;9(6).
Badowski M, Mazur JE, Lam SW, Miyares M, Schulz L, Michienzi S. Engaging in Collaborative Research: Focus on the Pharmacy Practitioner.. Hospital pharmacy. 2017;52(1):33-43. doi:10.1310/hpj5201-33.
Collins CD, Kabara JJ, Michienzi S, Malani AN. Impact of an Antimicrobial Stewardship Care Bundle to Improve the Management of Patients with Suspected or Confirmed Urinary Tract Infection.. Infection control and hospital epidemiology. 2016;37(12):1499-1501. doi:10.1017/ice.2016.199.
Cha R, Michienzi S, Hsaiky L. Antimicrobial Pharmacokinetics and Pharmacodynamics in the Treatment of Nosocomial Gram-Negative Infections. Adv Pharmacoepidem Drug Safety. 2012;(S1).
Education
Other, , University of Illinois at Chicago, College of Pharmacy, Chicago, IL
Other, , University of Illinois at Chicago, College of Pharmacy, Chicago, IL
Other, , St. Joseph Mercy Oakland, Pontiac, MI
PharmD, , Wayne State University Eugene Applebaum College of Pharmacy and Health Sciences, Detroit, MI
BS, Biological Sciences, Wayne State University, Detroit, MI
Licensures and Certifications
American Academy of HIV Medicine, AAHIVP, 2016
Board of Pharmacy Specialties, BCPS, 2016