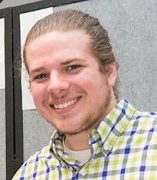 Matthew Brock Summerlin

Graduate Student, Medicinal Chemistry and Pharmacognosy
Rockford
Contact
Address:
833 S. Wood Street, Chicago, IL, 60612
Email:
Selected Publications
Jiao C, Summerlin MB, Bruzik KS, Hanakahi L. Synthesis of Biotinylated Inositol Hexakisphosphate To Study DNA Double-Strand Break Repair and Affinity Capture of IP6-Binding Proteins.. Biochemistry. 2015;54(41):6312-22. doi:10.1021/acs.biochem.5b00642.
Heo JB, Li JJ, Summerlin MC, Hays AL, Katyal S, McKinnon P, Nitiss K, Nitiss J, Hanakahi L. TDP1 promotes assembly of non-homologous end joining protein complexes on DNA.. DNA Repair. 2015;30:28-37. doi:10.1016/j.dnarep.2015.03.003.