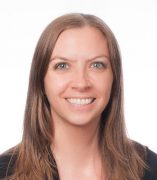 Rebekah Hanson Anguiano

Clinical Assistant Professor, Pharmacy Practice
Clinical Pharmacist, Ambulatory Pharmacy Services
Contact
Building & Room:
Suite 345, Room 327B
Address:
840 S. Wood Street, Chicago, IL, 60612
Office Phone:
Email:
Selected Publications
Anguiano RH. Specialty Pharmacy in Rheumatology. ACSAP 2016 Book 1 (Endocrinologic/Rheumatologic Care). 2016:
Bhat S, Khamo NW, Abdou S, Anguiano RH, Stubbings J, Khiani V. Pharmacists Role in Biologic Medication Therapy Management for Inflammatory Bowel Disease in a Health System Based Integrated Clinical Practice Mode. Am J Pharm Benefits. 2015;7(5):215-20.
Anguiano RH. Specialty pharmacy and the medication access dilemma. American Journal of Health-System Pharmacy. 2015;.
Anguiano RH, , , , . An integrated clinical and specialty pharmacy practice model for management of patients with multiple sclerosis. American Journal of Health-System Pharmacy. Am J Health Syst Pharm. 2014;15(71):463-9.
Shetty A, Anguiano RH, Korsten P, Shawagfeh M, Arami S, Volkov S, Vila O, Swedler W, Shunaigat AN, Smadi S, Sawaqed R, D, Shahrara S, Sweiss N. Tocilizumab in the treatment of rheumatoid arthritis and beyond. Drug Des Devel Ther. 2014;8:349-64.
Anguiano RH. Current and Emerging Therapies for Pulmonary. Hospital Pharmacy. 2013;48(supplement 4):S7-S14.
Duarte JD, Anguiano RH, Machado R. Pharmacologic treatments for pulmonary hypertension: exploring pharmacogenomics. Future Cardiology.. 2013;9(3):335-49.
Anguiano RH, Gannon MJ, Khamo NW, Sodhi MS, Orr A, Stubbings J. Improvement in safety monitoring of biologic response modifiers after the implementation of clinical care guidelines by a specialty pharmacy service. Journal of managed care pharmacy : JMCP. 2013;19(1):49-67.
Education
Jesse Brown Veterans Affairs Medical Center, Chicago IL
PharmD, University of Illinois at Chicago, Chicago, IL
BS, Biology, University of Wisconsin Milwaukee, Milwaukee
Licensures and Certifications
Board of Pharmacy Specialties, Board Certified Ambulatory Care Pharmacy, 2012
Board of Pharmacy Specialties, Board Certified Pharmacotherapy Specialist, 2008
Professional Memberships
American Society of Health System Pharmacists
American College of Clinical Pharmacy
Pulmonary Hypertension Association