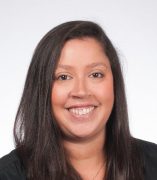 Laura M Sanchez

Assistant Professor, Pharmaceutical Sciences
Contact
Building & Room:
Pharm 321
Address:
833 S Wood St, Chicago, IL 60612
Office Phone:
Email:
Related Sites:
About
Research Interests: The Sanchez lab utilizes cutting edge mass spectrometry techniques to study the chemical language microbes and cells use to communicate with one another and their surroundings
Selected Publications
Sporer AJ, Beierschmitt C, Bendebury A, Zink KE, Price-Whelan A, Buzzeo MC, Sanchez L, Dietrich LEP . Pseudomonas aeruginosa PumA acts on an endogenous phenazine to promote self-resistance.. Microbiology (Reading, England). 2018;. doi:10.1099/mic.0.000657.
Galey M, Sanchez L. Spatial Analyses of Specialized Metabolites: The Key to Studying Function in Hosts.. mSystems. 2018;3(2). doi:10.1128/mSystems.00148-17.
Ochoa JL, Sanchez L, Koo BM, Doherty JS, Rajendram M, Huang KC, Gross CA, Linington RG. Marine Mammal Microbiota Yields Novel Antibiotic with Potent Activity Against Clostridium difficile.. ACS infectious diseases. 2018;4(1):59-67. doi:10.1021/acsinfecdis.7b00105.
Cleary JL, Condren AR, Zink KE, Sanchez L. Calling all hosts: Bacterial communication in situ.. Chem. 2017;2(3):334-358. doi:10.1016/j.chempr.2017.02.001.
Garg N, Zeng Y, Edlund A, Melnik AV, Sanchez L, Mohimani H, Gurevich A, Miao V, Schiffler S, Lim YW, Luzzatto-Knaan T, Cai S, Rohwer F, Pevzner PA, Cichewicz RH, Alexandrov T, Dorrestein PC. Spatial Molecular Architecture of the Microbial Community of a Peltigera Lichen.. mSystems. 2016;1(6). doi:10.1128/mSystems.00139-16.
Nguyen DD, Melnik AV, Koyama N, Lu X, Schorn M, Fang J, Aguinaldo K, Lincecum TL, Jr MG, Ghequire VJ, Carrion TL, Cheng BM, Duggan JG, Malone TH, Mauchline L, Sanchez AM, Kilpatrick JM, Raaijmakers R, De Mot BS, Moore MH, Medema PC, Dorrestein . Indexing the Pseudomonas specialized metabolome enabled the discovery of poaeamide B and the bananamides.. Nature microbiology. 2016;2:16197. doi:10.1038/nmicrobiol.2016.197.
Spraker JE, Sanchez L, Lowe TM, Dorrestein PC, Keller NP. Ralstonia solanacearum lipopeptide induces chlamydospore development in fungi and facilitates bacterial entry into fungal tissues.. The ISME journal. 2016;10(9):2317-30. doi:10.1038/ismej.2016.32.
Wang M, Carver JJ, Phelan VV, Sanchez L, Garg N, Peng Y, Nguyen DD, Watrous J, Kapono CA, Luzzatto-Knaan T, Porto C, Bouslimani A, Melnik AV, Meehan MJ, Liu WT, Crüsemann M, Boudreau PD, Esquenazi E, Sandoval-Calderón M, Kersten RD, Pace LA, Quinn RA, Duncan KR, Hsu CC, Floros DJ, Gavilan RG, Kleigrewe K, Northen T, Dutton RJ, Parrot D, Carlson EE, Aigle B, Michelsen CF, Jelsbak L, Sohlenkamp C, Pevzner P, Edlund A, McLean J, Piel J, Murphy BT, Gerwick L, Liaw CC, Yang YL, Humpf HU, Maansson M, Keyzers RA, Sims AC, Johnson AR, Sidebottom AM, Sedio BE, Klitgaard A, Larson CM, CAB P, Torres-Mendoza D, Gonzalez DJ, Silva DB, Marques LM, Demarque DP, Pociute E, O'Neill EC, Briand E, Helfrich EJN , Granatosky EA, Glukhov E, Ryffel F, Houson H, Mohimani H, Kharbush JJ, Zeng Y, Vorholt JA, Kurita KL, Charusanti P, McPhail KL, Nielsen KF, Vuong L, Elfeki M, Traxler MF, Engene N, Koyama N, Vining OB, Baric R, Silva RR, Mascuch SJ, Tomasi S, Jenkins S, Macherla V, Hoffman T, Agarwal V, Williams PG, Dai J, Neupane R, Gurr J, Rodríguez AMC , Lamsa A, Zhang C, Dorrestein K, Duggan BM, Almaliti J, Allard PM, Phapale P, Nothias LF, Alexandrov T, Litaudon M, Wolfender JL, Kyle JE, Metz TO, Peryea T, Nguyen DT, VanLeer D, Shinn P, Jadhav A, Müller R, Waters KM, Shi W, Liu X, Zhang L, Knight R, Jensen PR, Palsson BO, Pogliano K, Linington RG, Gutiérrez M, Lopes NP, Gerwick WH, Moore BS, Dorrestein PC, Bandeira N. Sharing and community curation of mass spectrometry data with Global Natural Products Social Molecular Networking.. Nature biotechnology. 2016;34(8):828-837. doi:10.1038/nbt.3597.
Maansson M, Vynne NG, Klitgaard A, Nybo JL, Melchiorsen J, Nguyen DD, Sanchez L, Ziemert N, Dorrestein PC, Andersen MR, Gram L. An Integrated Metabolomic and Genomic Mining Workflow To Uncover the Biosynthetic Potential of Bacteria.. mSystems. 2016;1(3). doi:10.1128/mSystems.00028-15.
Sanchez L, Cheng AT, Warner CJ, Townsley L, Peach KC, Navarro G, Shikuma NJ, Bray WM, Riener RM, Yildiz FH, Linington RG. Biofilm Formation and Detachment in Gram-Negative Pathogens Is Modulated by Select Bile Acids.. PloS one. 2016;11(3):e0149603. doi:10.1371/journal.pone.0149603.
Moree WJ, McConnell OJ, Nguyen DD, Sanchez L, Yang YL, Zhao X, Liu WT, Boudreau PD, Srinivasan J, Atencio L, Ballesteros J, Gavilán RG, Torres-Mendoza D, Guzmán HM, Gerwick WH, Gutiérrez M, Dorrestein PC. Microbiota of healthy corals are active against fungi in a light-dependent manner.. ACS chemical biology. 2014;9(10):2300-8. doi:10.1021/cb500432j.
Bouslimani A, Sanchez L, Garg N, Dorrestein PC. Mass spectrometry of natural products: current, emerging and future technologies.. Natural product reports. 2014;31(6):718-29. doi:10.1039/c4np00044g.
Yang JY, Sanchez L, Rath CM, Liu X, Boudreau PD, Bruns N, Glukhov E, Wodtke A, de Felicio R, Fenner A, Wong WR, Linington RG, Zhang L, Debonsi HM, Gerwick WH, Dorrestein PC. Molecular networking as a dereplication strategy.. Journal of natural products. 2013;76(9):1686-99. doi:10.1021/np400413s.
Hsu CC, ElNaggar MS, Peng Y, Fang J, Sanchez L, Mascuch SJ, Møller KA, Alazzeh EK, Pikula J, Quinn RA, Zeng Y, Wolfe BE, Dutton RJ, Gerwick L, Zhang L, Liu X, Månsson M, Dorrestein PC. (2013). Real-time metabolomics on living microorganisms using ambient electrospray ionization flow-probe.. Analytical chemistry. Vol. 85. Issue 15. Page(s) 7014-8.
Sanchez L, Knudsen GM, Helbig C, De Muylder G, Mascuch SM, Mackey ZB, Gerwick L, Clayton C, McKerrow JH, Linington RG. Examination of the mode of action of the almiramide family of natural products against the kinetoplastid parasite Trypanosoma brucei.. Journal of natural products. 2013;76(4):630-41. doi:10.1021/np300834q.
Sanchez L, Dorrestein PC. (2013). Analytical chemistry: Virulence caught green-handed.. Nature chemistry. Vol. 5. Issue 3. Page(s) 155-7.
Sanchez L, Wong WR, Riener RM, Schulze CJ, Linington RG. Examining the fish microbiome: vertebrate-derived bacteria as an environmental niche for the discovery of unique marine natural products.. PloS one. 2012;7(5):e35398. doi:10.1371/journal.pone.0035398.
Sanchez L, Curtis ME, Bracamonte BE, Kurita KL, Navarro G, Sparkman OD, Linington RG. Versatile method for the detection of covalently bound substrates on solid supports by DART mass spectrometry.. Organic letters. 2011;13(15):3770-3. doi:10.1021/ol201404v.
Sanchez L, Lopez D, Vesely BA, Della Togna G, Gerwick WH, Kyle DE, Linington RG. Almiramides A-C: discovery and development of a new class of leishmaniasis lead compounds.. Journal of medicinal chemistry. 2010;53(10):4187-97. doi:10.1021/jm100265s.
Ralifo P, Sanchez L, Gassner NC, Tenney K, Lokey RS, Holman TR, Valeriote FA, Crews P. Pyrroloacridine alkaloids from Plakortis quasiamphiaster: structures and bioactivity.. Journal of natural products. 2007;70(1):95-9. doi:10.1021/np060585w.
Notable Honors
2017, Faculty Fellow of the Year, UIC Honors College
2016, Building Interdisciplinary Research Careers in Women's Health (BIRCWH) Scholar, NIH
2012, Institutional Research and Academic Career Development Award (IRACDA) postdoctoral fellowship, NIH
2009, Graduate Research Fellowship, NSF
Education
Other, Post-Doctoral Fellowship, Mass Spectrometry and Microbiology, University of California, San Diego, La Jolla, CA
PhD, Chemistry, University of California, Santa Cruz, Santa Cruz
Professional Memberships
American Society for Mass Spectrometry
American Society of Pharmacognosy