Ask An Alumnus – Rob Wittenberg, PharmD '07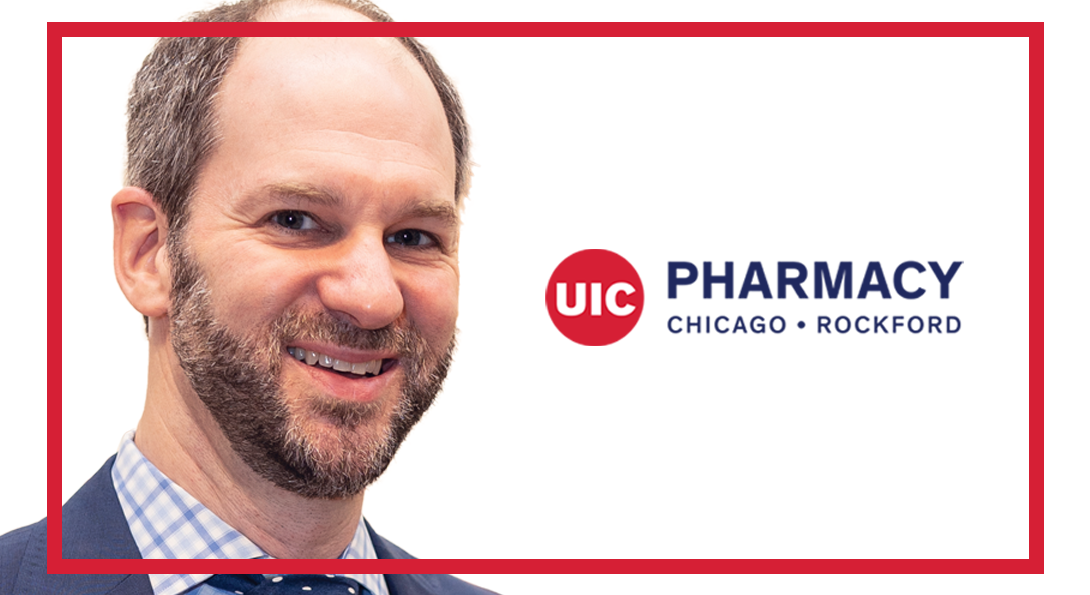 Rob Wittenberg, PharmD '07, Director of Regulatory Affairs, Advertising, and Promotion for Medical Specialties, Astellas Pharma US
After attending the University of Illinois at Urbana-Champaign, Dr. Robert Wittenberg actually started a career in radio production and sales. However, after getting a job as a pharmacy technician at Walgreens, he decided to pursue his Doctor of Pharmacy degree. He started pharmacy school at UIC in 2003 and took a particular interest in regulatory affairs (RA). During one of his P4 rotations at Lundbeck, he worked in RA labeling, advertising, and promotions, focusing on neurological rare diseases. He also completed a P4 rotation at Baxter where he worked in several therapeutic areas, including renal and surgical sealants, drugs, biologics, and devices.
Dr. Wittenberg realized that he truly enjoyed working in RA and continued on that track after graduating from the UIC College of Pharmacy in 2007. After working in various RA roles at companies like Lundbeck and Baxter, he landed in his current position as the director of regulatory affairs, advertising, and promotion for medical specialties at Astellas, where he utilizes his strong knowledge of FDA guidance and promotion standards to lead new campaigns and launch strategies for therapies. "I help teams produce marketing materials, corporate communications, and sales training that are compliant with FDA rules and regulations and work to improve communication and understanding among our audiences: healthcare providers and patients and their families or caregivers," says Dr. Wittenberg.
Q - How did you decide to pursue a degree in pharmacy?
A - I started working at Walgreens in a corporate help center and then realized with one of my mentors that I would be better serving people face-to-face. I then started "tech-ing" in Walgreens pharmacies all around Chicago (at least 25 different stores). I met so many patients and pharmacists, and after getting that clinical science exposure and being impressed by the people I was working with and the patients I got to help, I knew it was something that really interested me. It was working in retail and really enjoying it, and knowing it was something I could be good at and be happy with. What do you enjoy most about your current role?
I enjoy being in the middle of everything. I am working with therapies we are hoping to get approved and launched. We are also maintaining products that are later in their lifecycle. I have a team of people reporting to me, and managing people and "managing" upwards always keeps me busy. There is always something new and always something interesting going on. I work among so many interesting and smart people who are both listening to me and helping guide our next steps.
Q - What are you working on right now, and what have you enjoyed about it?
A - We have a new person we are training and have many other projects. One of those projects is a product in the world of women's health that has a huge spotlight on it right now, and we hope to bring to approval and market it. Providing guidance to the marketing team will be my team's focus to help promote it to healthcare providers, patients, etc. There are many projects/trainings surrounding the product launch that keeps us busy.
Q - What opportunities did you have at UIC that helped you get where you are today?
A - I had the thought of working in retail after graduating but wanted to see what else was out there that fit my skillset. Once I started at UIC, I joined AMCP [Academy of Mananged Care Pharmacy] and was a part of a P&T [Pharmacy and Therapeutics] team my P1 year with a really good group of students who mentored me along the way. I continued to network and expose myself to different opportunities. At UIC, I worked under Margaret Byun, Sandra Durley, and Joann Stubbings, which gave me further opportunities to learn. I felt lucky for the different doors that opened, but it was important to make sure I had knocked on those doors first.
Q - What advice do you have for those interested in a path similar to yours?
A - You don't have to wake up one day and have your whole life figured out, but you should take the opportunity to meet pharmacists and professionals in other areas. Meet as many people as possible to help you figure out a path that might make sense for you. You never know what connections might be formed, so having those conversations makes it worth it. You are extremely involved with the college through AMCP and the P&T competition.
Q - How have you seen that grow over the years?
A - When I was a student, the competition was really small, but it has grown a lot, and AMCP continues to be a really strong group. We have always had a history of doing well regionally as well as getting national exposure in the competition. There have always been a lot of faculty involved in the competition, and it is fun, almost a reunion of sorts. Margaret Byun is the faculty advisor for AMCP, and she gave me an opportunity to work during pharmacy school, so giving back time and staying involved is the least I can do. Being able to interact with students is also fun—you never know when you might cross paths with them again. It is a long-game.
Q - You are also a preceptor for us. Congrats on being named the 2021–2022 External Preceptor of the Year. What keeps you involved in this capacity?
A - It is rewarding in many ways. There is value in keeping in touch with students and helping them learn all different areas. There are opportunities to challenge themselves and find success. We want to give them different experiences, so they can learn more about what they might like. In the long run, we know we will always need good people, so we stay in touch and recruit. Come August, I will be working with four previous students of mine across the organization, so the connections created are really worth it.
Modified on August 17, 2022