Beyond the Classroom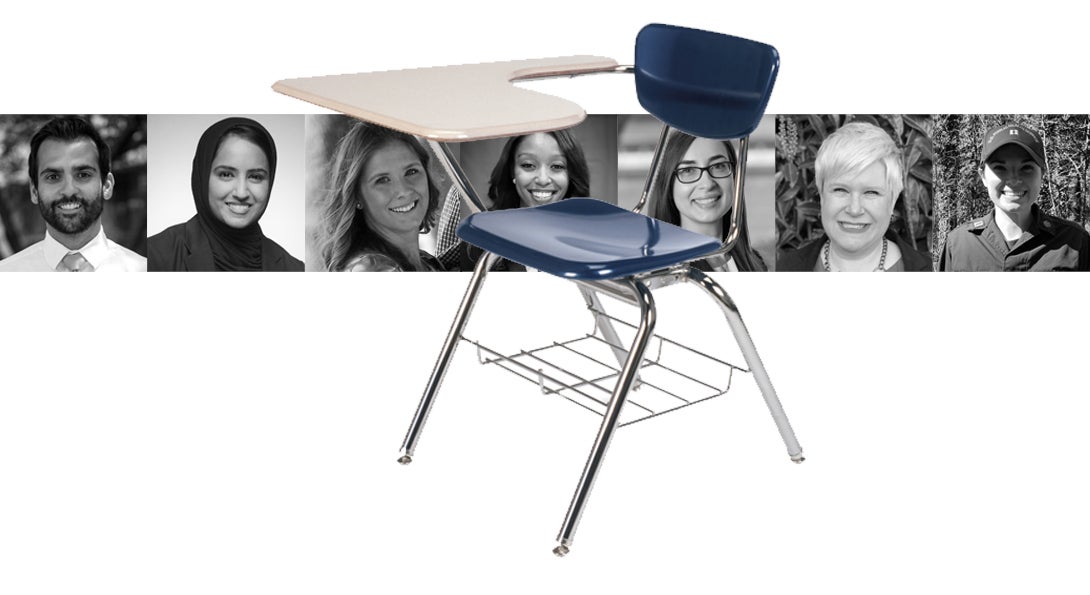 How a rich array of out-of-classroom experiences for UIC Pharmacy students fuels professional success
At the UIC College of Pharmacy, some of our students' most empowering and enriching lessons happen beyond the classroom's doors.
Complementing one of the nation's top-ranked pharmacy training programs, a diverse assortment of out-of-classroom experiences help students broaden their knowledge base and explore the ever-expanding range of professional opportunities available to capable and motivated pharmacy graduates.
"From pharmacy practice experiences that begin in year one to the summer internships, fellowships, and research opportunities our students can pursue, the experiential rotations we're able to offer our students help them understand the wide scope of professional opportunities available to pharmacists and reinforce the relevancy of their classroom training," UIC College of Pharmacy dean Glen Schumock says.
As a volunteer or through independent study, for instance, students might join internationally known research programs that advance pharmaceutical science, clinical care, and outcomes.
Or they might leverage a network of 10,000 alumni and the college's farreaching relationships with industry and healthcare partners to pursue career-driving summer internships and access some 900 clerkship sites spanning different practice areas, clinical specialties, and geography, including international venues. Or they might work shifts in one of the college's seven on-campus pharmacies. A living lab for clinical pharmacy practice, the college-run pharmacies advance new models of cutting-edge care and demonstrate how pharmacists can practice at the top of their license.
"The magnitude of external opportunities our students have available to them is truly special and a real point of differentiation for UIC," Schumock says. "It's a key reason why our alumni progress faster in their careers and become leaders in their respective professional areas."
Seven UIC alumni detail the out-of-classroom experiences that have informed, inspired and accelerated their professional pursuits.
Dan Gratie, PharmD '17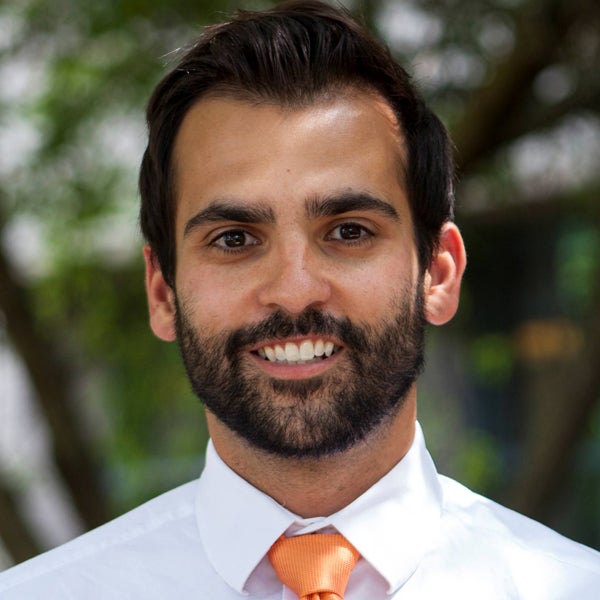 CURRENT POSITION
Value Strategy Manager at AESARA
THE EXTERNAL OPPORTUNITY=
In the summer of 2016, Dr. Gratie worked in the lab of Dr. Edith Nutescu (PharmD '94), a notable force in the field of outcomes research, as a Riback Fellow, an intensive, summer-long research training fellowship for PharmD students interested in a biomedical sciences research career. Over 10 weeks, Gratie shepherded a research project from beginning to end, addressing issues such as funding, planning, and protocols while coordinating efforts with clinical pharmacists and residents to study the impact of pharmacogenomic dosing.
THE BENEFIT
Gratie calls the Riback Fellowship a dynamic experience that empowered him to examine inputs and outputs—to assess potential hurdles and think forward—so that he could produce a digestible message capable of informing practice and advancing patient care. "I found myself always asking, 'What's the takeaway message?' and that forced me to dig into what really matters and see the bigger picture," says Gratie, who began working in Nutescu's lab as a first-year PharmD student. The experience also granted him intimate access to one of the globe's premier outcomes-research academic departments and highlighted the intricate relationship between clinical work and outcomes. "I learned the importance of communicating why something's important and why others should care, and that's proven immensely valuable in my career," Gratie says.
Hina Choudhary, PharmD '11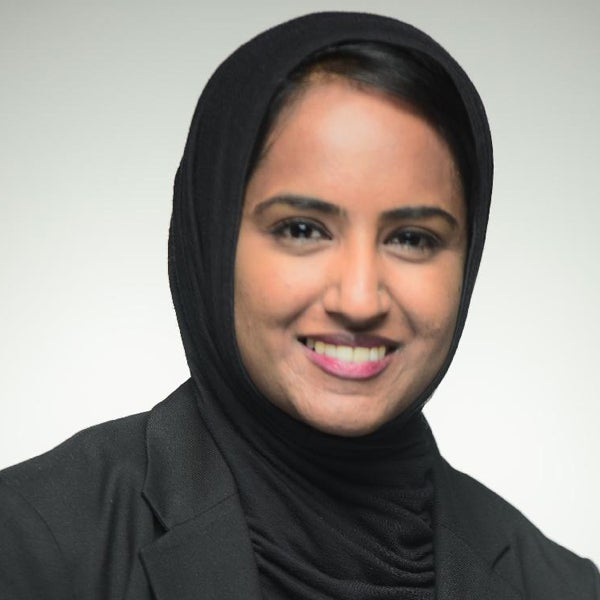 CURRENT POSITION
Global Medical and Scientific Affairs at L'Oreal
THE EXTERNAL OPPORTUNITY
Following her P2 year, Dr. Choudhary enjoyed a summer internship at a healthcare branding agency, where she tackled various projects for the firm's medical affairs team, such as running literature searches, creating scientific reports, and conducting in-depth scientific reviews to ensure medical accuracy. The internship helped Choudhary understand the critical role pharmaceutical and scientific knowledge play in reviewing marketing collateral and educating crossfunctional teams.
THE BENEFIT
The summer internship sharpened Choudhary's interest in the corporate sector of pharmacy, nudging her into that world before helping her land a coveted position at L'Oreal. "There weren't a whole lot of experiences of that sort a decade ago, so to be able to have gained some exposure in healthcare branding and also medical affairs truly gave leverage to my chosen career path," says Choudhary, who also spent time during her PharmD studies working alongside Dr. Clara Okorie-Awe, a clinical associate professor in the Department of Pharmacy Systems, Outcomes, and Policy, on research pertaining to HIV transmission in newborns through unwanted pregnancies among young African women.
Samantha Keca Mathews, PharmD '12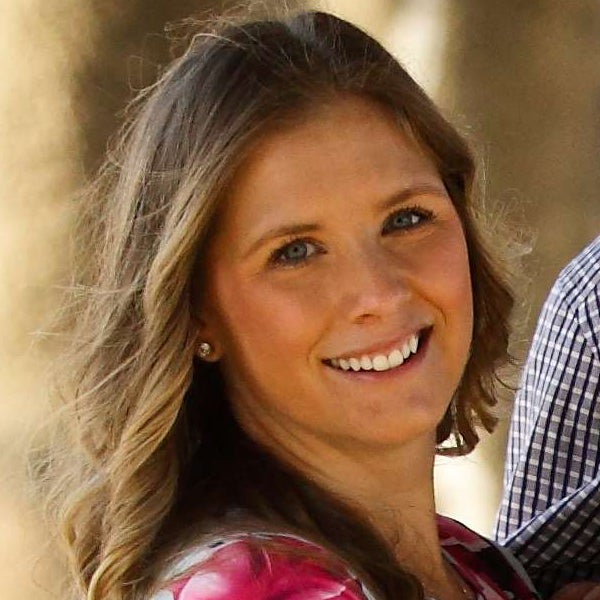 CURRENT POSITION
CVS Pharmacy Manager in Gardena, California
THE EXTERNAL OPPORTUNITY
After hearing pharmacist and Casa de Salud founder Kerrylyn Rodriguez speak about her medical outreach program during an American Pharmacists Association chapter meeting, Dr. Mathews signed up for a Casa de Salud volunteer trip in summer 2009. Over eight days, Mathews and other health-professions students set up seven clinics along neglected stretches of the Amazon in Peru. She staffed a makeshift pharmacy, answered patient questions, and checked blood pressure, among other tasks. Upon her return, Mathews prepared a poster presentation with fellow UIC students detailing the health disparities they identified during their experience abroad.
THE BENEFIT
The volunteer trip put Mathews's work—and life— into perspective and has fostered ongoing reflection. "It's easy to become burnt out or disengaged in the community pharmacy world today with its countless metrics and constantly changing priorities, but that trip continues to inspire me to show up as the best version of myself every day at work and to help the people who need it most," says Mathews. Others have noticed Mathews's enthusiastic and dedicated efforts. In 2016, CVS awarded Mathews its coveted Area Paragon Award, an honor recognizing CVS Health staffers who deliver exemplary direct care to patients and customers.
Rene (Williams) Rabaza, PharmD '17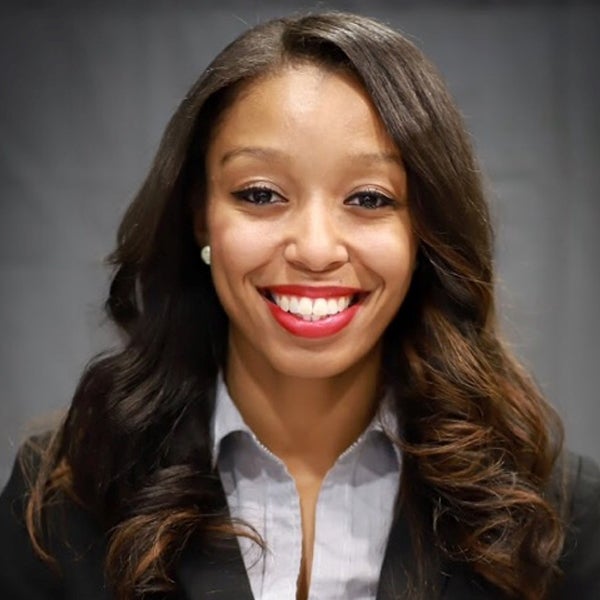 CURRENT POSITION
Manager of Regulatory Affairs, U.S. Advertising & Promotion at AbbVie
THE EXTERNAL OPPORTUNITY
As a P4, Dr. Rabaza completed an industry rotation inside a pharmaceutical company's clinical supply chain department. While Rabaza learned about effective planning and management of clinical supplies across global clinical trials, the rotation also allowed her to discover potential career paths she might consider and to build relationships with other UIC PharmD alumni. In addition, the rotation introduced Rabaza to the Healthcare Businesswomen's Association (HBA), an organization dedicated to the advancement of women in healthcare.
THE BENEFIT
Rabaza's industry rotation afforded her a firsthand look at the corporate environment, helping her better understand the potential reach enterprise-level efforts could have on patient lives around the globe. That has given Rabaza heightened confidence when discussing industry issues and impact as well as an enhanced business acumen she carries into her daily work at AbbVie. "Say 'YES' to unique opportunities and continue to leverage those experiences throughout your career," says Rabaza, who served a stint as president of the Student National Pharmaceutical Association while at UIC and continues to lean on her UIC ties and involvement with HBA to expand her collegial network and drive her professional pursuits.
Julia Ursan, PharmD '13, MS in Pharmacy Systems, Outcomes, and Policy '15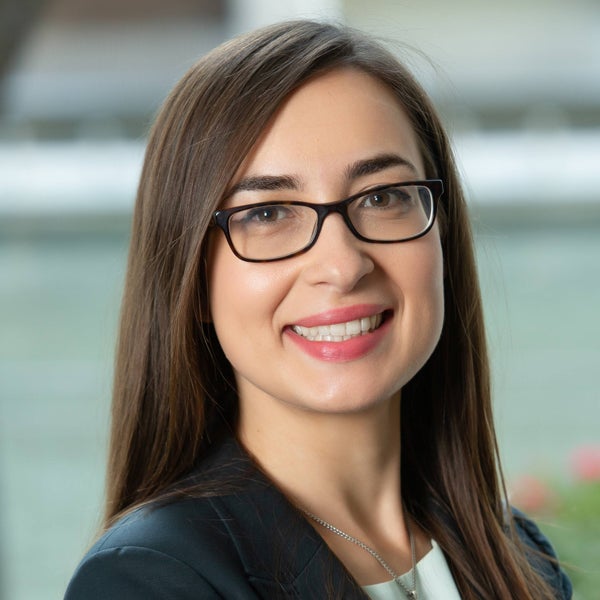 CURRENT POSITION
Clinical Analytics Consultant at OptumRx
THE EXTERNAL OPPORTUNITY
Dr. Ursan undertook several research projects with the highly regarded Center for Pharmacoepidemiology and Pharmacoeconomic Research (CPR) during her P3 and P4 years. She helped produce a survey for rural hospital inpatient pharmacies and participated in the development of health decision models as well as various publications.
THE BENEFIT
Working with the CPR, Ursan began to realize the significant role pharmacy outcomes research would play in healthcare's future. This ignited her interest in an outcomes-based career, while simultaneously providing her the necessary skills to pursue a pharmacoeconomics fellowship after pharmacy school. "The experience with the CPR allowed me to conduct independent scholarly research that advanced knowledge about the value of pharmaceuticals," says Ursan, adding that a P4 clerkship at AbbVie analyzing research for biologics also helped her understand health economic claims and elements of health economic promotion. Those UIC-powered experiences now guide Ursan's work as a health economics advisor, providing strategic analytic insights for governments, health plans, and commercial clients.
Tara Berkson, PharmD '13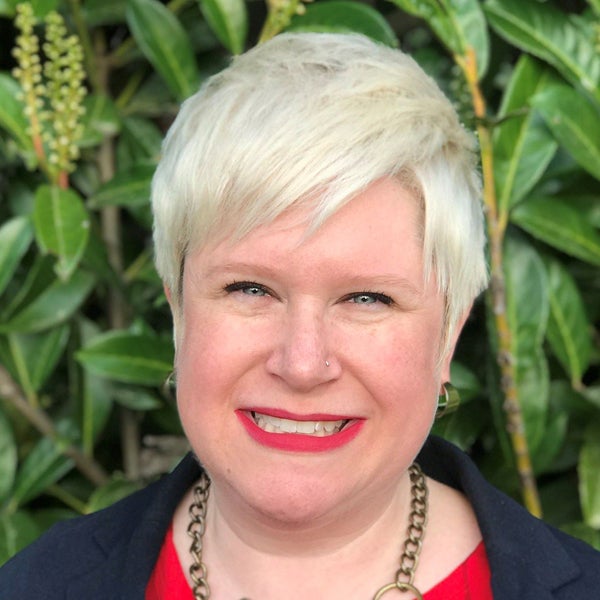 CURRENT POSITION
Regional Clinical Pharmacy Director at Credena HealthProvidence St. Joseph Health in Portland, Oregon
THE EXTERNAL OPPORTUNITY
From a Riback Fellowship to an internship at the Department of Medical Education at UIC's College of Medicine, Dr. Berkson enjoyed a number of valuable out-of-classroom experiences during her UIC years, though a rotation at the specialty pharmacy with clinical associate professor JoAnn Stubbings proved especially insightful. Providing direct patient care, Berkson gained a deeper knowledge of various specialty pharmacy disease states and participated in different specialty pharmacy collaboratives and meetings.
THE BENEFIT
Berkson often reflects on how Stubbings and her specialty pharmacy colleagues "tackled challenges and celebrated successes" as well as the "wealth of opportunities" she enjoyed as a UIC student. Currently charged to provide support and leadership to clinical programs at Providence's outpatient, community, and specialty pharmacies across eight states, Berkson says her colleagues laugh when she recalls the stress she felt upon submitting her first prior authorization request during her specialty pharmacy rotation or her excitement at completing her first refill assessment for Gilenya—a new and novel therapy for multiple sclerosis at that time. "I observed a new pharmacy service in its infancy," says Berkson, who has transferred that knowledge to her current role growing pharmacy services at Providence.
Nicole Joyce, PharmD '14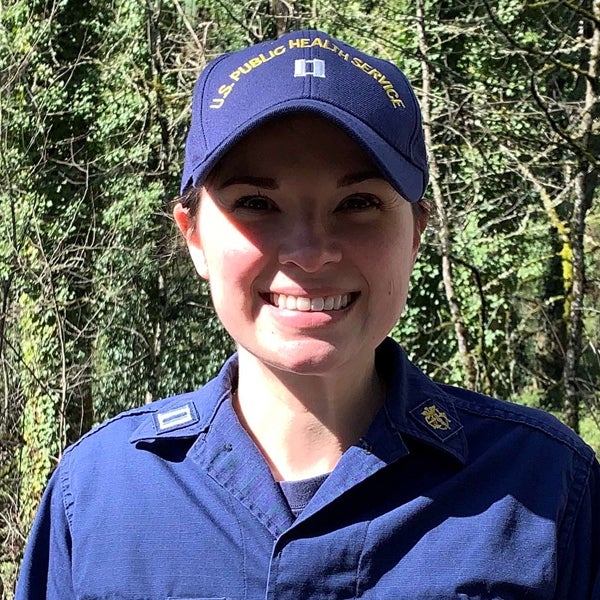 CURRENT POSITION
Lieutenant, U.S. Public Health Service (USPHS)
THE EXTERNAL OPPORTUNITY
As a student at the college's Rockford campus, Dr. Joyce participated in the Rural Pharmacy Education (RPHARM) program, an interprofessional program that prepares students to provide pharmacy services in rural communities.
THE BENEFIT
The RPHARM program's interdisciplinary format prepared Joyce to function on diverse healthcare teams and, perhaps most notably, sparked her passion for tending to underserved populations. In the summer between her second and third years at UIC, she completed an externship with USPHS's Indian Health Services (IHS). Serving the Ho-Chunk Indian population in Baraboo, Wisconsin, Joyce fell in love with the clinical opportunities IHS offered, which led her to pursue additional opportunities with IHS and, later, to become a commissioned USPHS officer. Now under a broad collaborative practice agreement, Joyce is catering to another underserved population—inmates—as a full-time clinical pharmacist at an Oregon prison. "Working with underserved populations means working at the very top of your license because there's simply not enough providers," she says. "I find this extremely fulfilling and my services impactful, as many in the inmate population have never had much access to healthcare."
Modified on June 24, 2020