Driving Diversity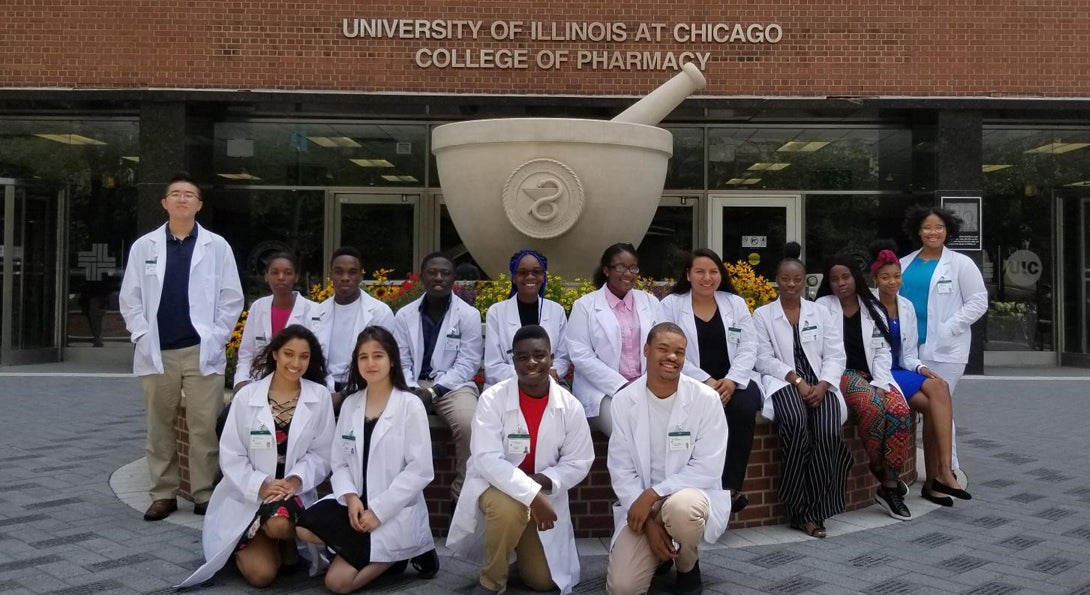 As a junior at Chicago's Morgan Park High School, Dr. Cassandra Clermont-Fadowole, PharmD '18, admits she knew little of pharmacy, which was more a word on Walgreens or CVS signage than a potential career.
That all changed when the South Side resident entered the UIC College of Pharmacy's Urban Pipeline Program (UPP) in the summer of 2009.
The marquee initiative within the College of Pharmacy's Urban Health Program (UHP), UPP is an eight-week experiential and mentoring program designed to expose underrepresented minority students from Chicago Public Schools and south suburban Rich Township District 227 to careers in pharmacy. Through classroom instruction and hands-on work in a CVS retail pharmacy, students like Clermont-Fadowole gain an intimate look into the pharmacy world and its possibilities.
"This opened my eyes to the valuable work pharmacists could do and the important roles they play in healthcare and people's lives," Clermont-Fadowole says.
Since the UPP's founding 15 years ago, the pipeline program has successfully exposed African American, Latinx and American Indian students to pharmacy and increased the number of underrepresented minorities entering the professional ranks.
According to Dr. Clara Okorie-Awe, director of the College's UHP, two-thirds of pipeline participants are actively pursuing undergraduate science degrees five years after entering the UPP. After another five years, two out three pipeline students are studying pharmacy at UIC or another institution or establishing themselves in the profession.
"Students from these underrepresented communities often view themselves as outsiders looking in, but we're inviting students in and showing them, they belong," says Okorie-Awe, who welcomes upwards of 40 students each year into the UPP.
The College's efforts to attract and educate underrepresented minority students doesn't end with its flagship pipeline program.
Alongside its UIC health sciences peers as part of UIC's broader, mission-driven UHP – a University-wide program that has graduated more than 7,000 health professionals since its 1978 launch – the College of Pharmacy maintains a deep commitment to recruiting, training and graduating minority students.
Each year, some 100 high school, community college and university students from underrepresented minority groups shadow a current UIC pharmacy student in the UHP's Pharmacy Student for a Day program, while Pharmacy Enrichment field days allow students to tour the College, observe pharmaceutical demonstrations with faculty and connect with current students. The College also claims a deep partnership with the City Colleges of Chicago that guarantees a select number of exceptional students admission into UIC's heralded PharmD program.
Through these committed efforts and others, the College has emerged a national model for other U.S. pharmacy and health science institutions and captured national recognition. INSIGHT Into Diversity magazine, the oldest and largest diversity-focused publication in higher education, has twice honored the College for its diversity and inclusion endeavors, including its Urban Pipeline Program.
And the purpose-fueled work continues bearing fruit. Of UIC's current first-year PharmD class, Okorie-Awe says 23 percent are from underrepresented minority groups.
"We're accomplishing our goals, which is to expose students from diverse backgrounds to pharmacy and increase the numbers entering the profession," Okorie-Awe says.
Clermont-Fadowole, meanwhile, stands a stellar example of the program's intent and its accomplishments. After earning her undergraduate degree in nutrition at the University of Illinois, she returned to UIC in 2014 to pursue her PharmD. Now a pharmacist at a South Side Walgreens, Clermont-Fadowole is serving as a positive presence in her customers' lives and helping them overcome barriers to care.
"The Urban Pipeline Program exposed me to healthcare disparities and access as something that needs to be addressed, specifically in minority populations," she says.
Modified on April 10, 2020