Partnership Spotlight: Jesse Brown Veterans Affairs Medical Center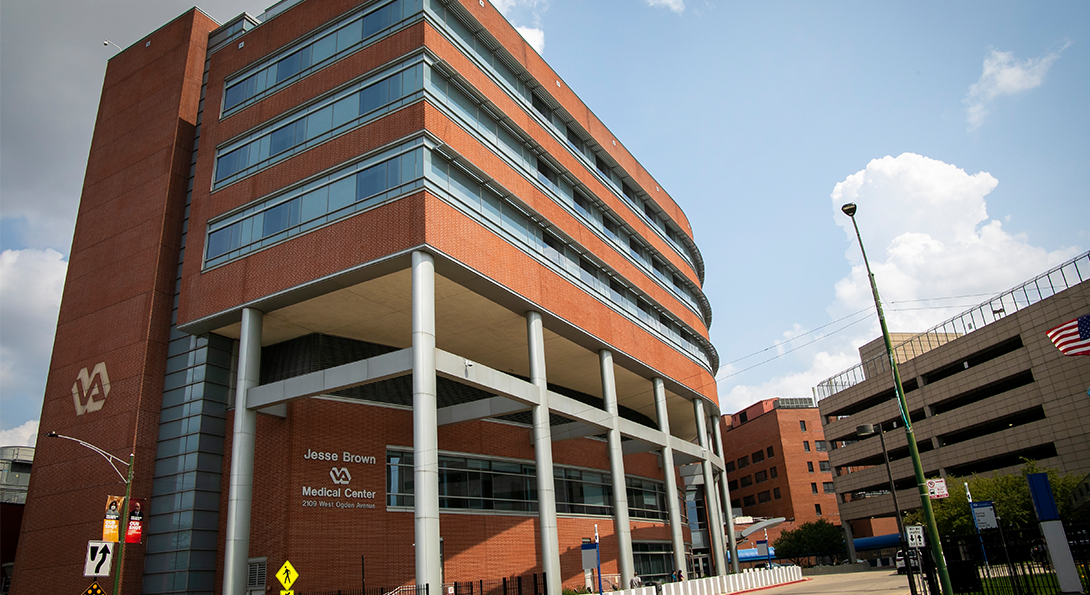 One look at the leadership team from Jesse Brown Veterans Affairs Medical Center (VAMC), and two striking facts surface.
First, all five of them are women.
Second, they're all graduates of the UIC College of Pharmacy (COP).
In a profession where the balance of women to men tips slightly–just over half–toward the former, the first piece may not be terribly surprising. And, when one considers that the two institutions have carefully and aggressively fostered a partnership established nearly 30 years ago, perhaps the second item becomes less so as well.
Nevertheless, the two facts together make it clear that, not only does this collaboration between Jesse Brown VAMC and UIC educate the tomorrow's pharmacists; it also, quite successfully, equips the profession's next generation of leaders.
Located in the heart of the Illinois Medical District, UIC COP possesses a distinct advantage in its proximity to a number of major healthcare institutions. While UIC works with several of these, COP's most robust partnerships is with Jesse Brown.
"Of all the health systems or hospitals we work with, we have the closest relationship with [Jesse Brown]," says Dean Glen Schumock. "The U of I Hospital, of course, is our main training site for students. Outside of that, Jesse Brown takes more of our students than any other hospital."
Since 1995, the two facilities have held an exclusive arrangement: Jesse Brown only trains pharmacy students from UIC.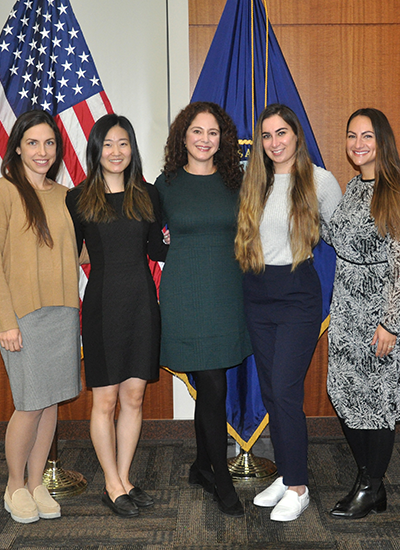 "One of our pillars for what we do here is providing quality education," says Isabel Sanvanson Karceski, PharmD '99, Chief of Pharmacy Service at Jesse Brown VAMC. "That relationship [with UIC] is very strong and open to change and growth. Our goal is to make sure we complement the curriculum at UIC and continue to provide what they need for our students and interns."
In fact, it was Karceski herself who was the impetus for establishing Jesse Brown's VALOR program, a unique training initiative aimed at preparing pharmacy students for leadership roles. She began her journey with Jesse
Brown's Pharmacy leadership team with little experience in administration and was grateful for on-the job mentoring, but thought it would only be beneficial for pharmacy students to have the opportunity to learn those types of skills in school.
Sanvanson Karceski's subsequent proposal for an internship position for P2s with interest in administrative leadership was approved, and, in 2010, the VALOR program was born. VALOR, which stands for "VA Learning Opportunities Residency," offered pharmacy students hands-on experience and mentorship in various management roles throughout the VA.
Associate Chief of Pharmacy Operations Alexandra Riskus, PharmD '15, currently oversees the current iteration of VALOR, now called the Pharmacy Student Administration Program. Interns, who are given the opportunity to choose their area of focus, are able to work directly with VA management in areas such as strategic planning, fiscal management, performance improvement, regulatory compliance and patient safety.
"These interns are an integral part of our medication safety team," explains Riskus. They actually manage the database for the patients, perform follow-ups and identify trends. They also manage and update our policies. To be involved in these types of projects that are critical for our department–obviously with a level of oversight—is a unique level of exposure."
Students also present at the monthly pharmacy and therapeutics meeting and even before the director of the medical center and chief of staff.
"Those are the things you can't teach in a classroom," says Sanvanson Karceski. "To live it and breathe it—those experiences are invaluable."
Riskus, who is, herself, an alumna of the VALOR program, says she'll always be grateful for the training she received at the VA as a student.
"For the student who's contemplating the future, who maybe can't decide what they'd like to pursue, learning those administrative and leadership skills always helps," she says.
In fact, along with Riskus, two other members of the VA's pharmacy leadership team participated in the VALOR program while at UIC: Jennifer Lee, PharmD '18, associate chief of clinical pharmacy services; and Ashley Santore, PharmD '17, inpatient pharmacy supervisor.
"[VALOR] was so interesting and such a unique opportunity, I wanted to be a part of it," says Santore. "It made administration so interesting to me–our care model, how everything works. Operations became a strong suit for me, and VALOR was the spark that made that possible."
Currently, Jesse Brown accepts two interns a year for its Pharmacy Student Administration Program, but, for the 2022-23 academic year, is hosting nearly 100 experiential education students. Historically, the VA has taken on as many as 160 UIC Pharmacy students in a given year.
Sheila Allen, PharmD '03, UIC COP Clinical Assistant Professor and Senior Director of Experiential Education, believes Jesse Brown provides students an exceptional experience in interdisciplinary collaboration throughout the medical center. Allen did a rotation there when she was a UIC student, and is pleased to watch the partnership grow.
"It really opened my eyes to what pharmacy practice could look like," she recalls. "The pharmacy community [there] and the strong pharmacy voice within those interprofessional relationships give our students a great opportunity to see pharmacy practiced at the top of the license."
What sets the Jesse Brown VAMC practice model apart from other programs, says Lee, is the presence of clinical pharmacy practitioners, or CPPs. CPPs at Jesse Brown are independent practitioners licensed to prescribe without the requirement of meeting with providers.
"CPPs are an integral part of our health care model here at Jesse Brown," she says. "When students or residents have the opportunity to work with these pharmacists, they get to experience firsthand what a pharmacist can do without limitations."
Edith Nutescu, PharmD '94, PGY2 '96, professor and head of the college's Department of Pharmacy Practice values UIC's key relationship with Jesse Brown. "They're unique in the way they deliver clinical pharmacy services," she says. "They are an excellent training site, and we are fortunate to partner with them in educating our students."
In turn, the Pharmacy leadership team at Jesse Brown are grateful for the knowledge that UIC students bring to the practice setting.
Santore, who oversees P4 students in their core Advanced Pharmacy Practice Experience (APPE)hospital rotation, and also coordinates inpatient experiences for Introductory Pharmacy Practice Experience (IPPE) students, has witnessed the evolution of the COP's curriculum since she began working at the VA in 2014. She believes that their work only benefits from the cutting-edge instruction UIC students take on in the classroom and bring to Jesse Brown.
"When the curriculum changes, we see the effects of that downstream in terms of new IPPE and APPE formats and additional requirements for rotations," she says. "It keeps us abreast of new things coming down the pipeline for pharmacy practice. When they're advancing, we make sure we align and grow with that as well."
Emily Kalusetsky, PharmD '17, outpatient pharmacy supervisor, now coordinates student onboarding at Jesse Brown, acting as a liaison between the two institutions. As a UIC student, she'd experienced rotations there and eventually did her residencies there as well.
"I see precepting these students as a way to give back," she says. "I get to watch their development as a student, then as a resident and future pharmacist here."
For Sanvanson Karceski, continuing to train UIC students will remain a priority.
"Obviously, our entire leadership team came from UIC," Sanvanson Karceski comments. "They taught us, so it's our turn to teach them. It's very humbling for all of us, and I have the utmost respect for the faculty and the dean."
"It's a strong, collaborative relationship that works. Maintaining it is the only way to continue to succeed."
Modified on November 18, 2022