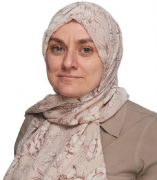 Ajna Hamidovic

Assistant Professor, Pharmacy Practice
Contact
Address:
833 South Wood Street, Chicago, IL, 60612
Office Phone:
Fax:
Email:
About
Research Interests: Ajna Hamidovic, PharmD, MS develops novel laboratory models and pharmacological treatments for drug addiction and mood disorders. Dr. Hamidovic's Clinical and Experimental Drug Addiction Research (cedar.uic.edu) lab evaluates stress reactivity, tests memory and constructs longitudinal models of menstrual cycle neurosteroid rhythmicity.
Teaching Interests: In addition to her research contributions, Dr. Hamidovic is an experienced teacher. She teaches Clinical Research Methods as well as Psychiatric Pharmacotherapy and Pharmacology, with a focus on Neurobiology of Addiction and treatment of Substance Use Disorder.
Clinical Interests: Dr. Hamidovic has practiced Geriatric Psychiatry Pharmacotherapy in an interdisciplinary team setting. Among other activities, she advised her team on antipsychotic adverse event management and pharmacokinetic-based lithium dosing.