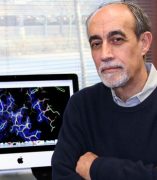 Cele Abad-Zapatero

Adjunct Professor, Center for Biomolecular Sciences
Contact
Address:
900 S. Ashland Avenue, Chicago, Illinois, 60612
Office Phone:
Office Phone TTY:
Email:
Related Sites:
About
Computational concepts, methods and tools to expedite drug discovery: Ligand Efficiency Indices, AtlasCBS. Structure-Based Drug Design of anti-infective drug targets, particularly TB in collaboration with the ITR center at UIC
Selected Publications
Abad-Zapatero C. Optimizing Structure-Based Drug Design: Concepts, Practices and Tools. John Wiley;
Abad-Zapatero C. Ligand Efficiency Indices for Drug Discovery: Towards an Atlas-Guided Paradigm. Elsevier-Academic Press; 2013.
Abad-Zapatero C. Crystals and Life: A Personal Journey. La Jolla, CA: International University Line; 2002.