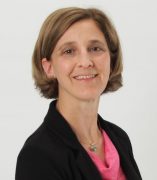 Colleen E Piersen, PhD

Assistant Head for Administration, Medicinal Chemistry and Pharmacognosy
Research Assistant Professor, Medicinal Chemistry and Pharmacognosy
Director of Research Services, Office of the Dean
Faculty and Staff Committee, Diversity & Inclusion
Contact
Address:
833 S. Wood Street, Chicago, IL, 60612
Office Phone:
Email:
Selected Publications
van Breemen RB, Liang WP, Banuvar S, Shulman LS, Pang YM, Tao Y, Nikolic DL, Krock KF, Chen SE, Hedayat SC, Bolton JE, Pauli GR, Piersen C, Krause E, Geller S, Farnsworth N. Pharmacokinetics of 23-epi-26-deoxyactein in women after oral administration of a standardized extract of black cohosh.. Clinical pharmacology and therapeutics. 2010;87(2):219-25. doi:10.1038/clpt.2009.251.
Geller SE, Shulman LP, van Breemen RB, Banuvar SS, Zhou YC, Epstein GE, Hedayat SL, Nikolic DF, Krause ER, Piersen C, Bolton J, Pauli G, Farnsworth N. Safety and efficacy of black cohosh and red clover for the management of vasomotor symptoms: a randomized controlled trial.. Menopause (New York, N.Y.). 2009;16(6):1156-66. doi:10.1097/gme.0b013e3181ace49b.
Piersen CE, Booth NL, Sun YE, Liang WB, Burdette JE, van Breemen RP, Geller SL, Gu CR, Banuvar S, Shulman L, Bolton J, Farnsworth N. Chemical and biological characterization and clinical evaluation of botanical dietary supplements: a phase I red clover extract as a model.. Current medicinal chemistry. 2004;11(11):1361-74.
Burdette JE, Liu J, Chen SE, Piersen CL, Barker EM, Pezzuto JB, Mesecar AR, van Breemen RL, Farnsworth N, Bolton J. Black cohosh acts as a mixed competitive ligand and partial agonist of the serotonin receptor.. Journal of agricultural and food chemistry. 2003;51(19):5661-70. doi:10.1021/jf034264r.
Xu HE, Piersen CL, Bolton JM, Pezzuto JR, Fong HI, Totura S, Farnsworth N, Constantinou A. A preliminary RAPD-PCR analysis of Cimicifuga species and other botanicals used for women's health.. Phytomedicine : international journal of phytotherapy and phytopharmacology. 2002;9(8):757-62. doi:10.1078/094471102321621403.
Education
MBA, Healthcare Administration, Alaska Pacific University, Anchorage, Alaska
PhD, Pharmacology, Vanderbilt University, Nashville, Tennessee
BS, Chemistry, Carleton College, Northfield, Minnesota