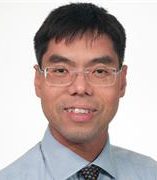 David Chan

Clinical Assistant Professor, College of Pharmacy - Pharmacy Practice
Pharmaceutics IV Drug Delivery Systems Design and Calculations Competency (PHAR 434), 10/22/2020 – 10/22/2020
Pharmaceutics IV Drug Delivery Systems Design and Calculations Competency (PHAR 434), 10/24/2019 – 10/24/2019
Pharmaceutics IV Drug Delivery Systems Design and Calculations Competency (PHAR 434), 2/21/2019 – 2/21/2019
Selected Grants
CTA: COVID19 COVID-C3PO: Clinical Trial of COVID-19 Convalescent Plasma in Outpatients (C3PO), University of Michigan., 6/1/2020 - 5/31/2021, Obligated Amount: $28700; Anticipated Amount: $28700
Selected Publications
Kamel, J, Meeder, N, Cuellar, S, Chan, D, Huber, M, Pasquinelli, M, Hulbert, A, Khaddour, K, Feldman, L. (2021). Severe Psychiatric Symptoms in a Patient With EGFR Exon-20 Insertion Mutation Receiving Mobocertinib: A Case Report. JTO Clinical and Research Reports, 2, (11). doi:10.1016/j.jtocrr.2021.100241.
Winn-Deen, ES, Helton, B, Van Atta, R, Wong, W, Peralta, J, Wang, J, Tsongalis, GJ, Belloni, D, Chan, D, Eshleman, JR, Gocke, CD, Jobbagy, Z, Beppu, L, Radich, JP. (2007). Development of an integrated assay for detection of BCR-ABL RNA. Clinical Chemistry, 53, (9), 1593-1600. doi:10.1373/clinchem.2007.085472.
Popov, VM, Chan, DCM, Fillingham, YA, Atom Yee, W, Wright, DL, Anderson, AC. (2006). Analysis of complexes of inhibitors with Cryptosporidium hominis DHFR leads to a new trimethoprim derivative. Bioorganic and Medicinal Chemistry Letters, 16, (16), 4366-4370. doi:10.1016/j.bmcl.2006.05.047.
Chan, DCM, Anderson, AC. (2006). Towards species-specific antifolates. Current Medicinal Chemistry, 13, (4), 377-398. doi:10.2174/092986706775527938.
Chan, David CM, Rosowsky, Andre. (2005). Synthesis of the Lipophilic Antifolate Piritrexim (I) via a Palladium(0)‐Catalyzed Cross‐Coupling Reaction.. ChemInform, 36, (28), no-no. doi:10.1002/chin.200528170.
Chan, DCM, Fu, H, Forsch, RA, Queener, SF, Rosowsky, A. (2005). Design, synthesis, and antifolate activity of new analogues of piritrexim and other diaminopyrimidine dihydrofolate reductase inhibitors with ω-carboxyalkoxy or ω-carboxy-1-alkynyl substitution in the side chain. Journal of Medicinal Chemistry, 48, (13), 4420-4431. doi:10.1021/jm0581718.
Chan, DCM, Rosowsky, A. (2005). Synthesis of the lipophilic antifolate piritrexim via a palladium(0)-catalyzed cross-coupling reaction. Journal of Organic Chemistry, 70, (4), 1364-1368. doi:10.1021/jo040268z.
Rosowsky, A, Fu, H, Chan, DCM, Queener, SF. (2004). Synthesis of 2,4-Diamino-6-[2′-O-(ω -carboxyalkyl)oxydibenz[b,f]azepin-5-yl]-methylpteridines as Potent and Selective Inhibitors of Pneumocystis carinii, Toxoplasma gondii, and Mycobacterium avium Dihydrofolate Reductase. Journal of Medicinal Chemistry, 47, (10), 2475-2485. doi:10.1021/jm030599o.
Deonarain, R, Chan, DCM, Platanias, LC, Fish, EN. (2002). Interferon-α/β-receptor interactions: A complex story unfolding. Current Pharmaceutical Design, 8, (24), 2131-2137. doi:10.2174/1381612023393288.
Education
Degrees:
Pharm.D., Idaho State University, United States
Ph.D., University of Nottingham, United Kingdom
B.Sc., Aston University, United Kingdom
Licensures and Certifications
Pharmacy-Based Immunization Delivery Certificate, American Pharmacists Association, 4/25/2021 - Present
Basic Life Support Provider Certificate, American Heart Association, 3/1/2018 - Present
Board Certified Oncology Pharmacist, Board of Pharmacy Specialties, 1/1/2018 - Present
Certified Clinical Research Professional, Society of Clinical Research Associates, 5/2014 - Present