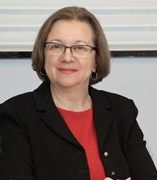 Edith Nutescu

Department Head, Pharmacy Practice
Professor (Tenured), Pharmacy Practice
Affiliate Faculty, Center for Pharmacoepidemiology and Pharmacoeconomic Research
Affiliate Faculty, Center for Dissemination and Implementation Science
Pharmacy&US Healthcare System (PHAR 461), 2/14/2022 – 4/29/2022
Pharmacy&US Healthcare System (PHAR 461), 2/14/2022 – 4/29/2022
Pharmacy&US Healthcare System (PHAR 461), 2/15/2021 – 4/30/2021
Pharmacy&US Healthcare System (PHAR 461), 2/15/2021 – 4/30/2021
Independent Study (PSOP 596), 1/11/2021 – 4/30/2021
Independent Study (PSOP 596), 8/24/2020 – 12/4/2020
Pharmacy&US Healthcare System (PHAR 461), 8/24/2020 – 12/4/2020
Pharmacy&US Healthcare System (PHAR 461), 2/17/2020 – 5/1/2020
Pharmacy&US Healthcare System (PHAR 461), 2/17/2020 – 5/1/2020
Selected Grants
Arterial and Venous Thrombosis in Hospitalized COVID-19 patients: A National Multicenter Cohort Study, CDC, National Blood Clot Alliance, Association of University Centers on Disabilities., 11/9/2021 - 11/8/2024, Obligated Amount: $16000; Anticipated Amount: $16000
Contemporary Practice Trends to Reversal of Oral Anticoagulants: A US Based National Survey, CSL Behring., 10/1/2018 - 1/31/2023, Obligated Amount: $52600; Anticipated Amount: $52600
Walgreens Masters Service Agreement, Walgreen Co., 8/31/2018 - 8/31/2021, No Obligated Amount Set; No Anticipated Amount Set
Factors influencing the treatment selection of anticoagulation therapies in African American, North American Society of Thrombosis and Hemostasis., 8/2018 - 8/2019, Obligated Amount: $6000; Anticipated Amount: $6000
Impact of socio-environmental factors on optimal anticoagulation outcomes in underserved patients, University of Illinois at Chicago, College of Pharmacy: Riback Grant., 2018 - 2019, No Obligated Amount Set; No Anticipated Amount Set
Risk of Venous Thromboembolism Following Diagnosis and Treatment of Multiple Myeloma : differences by race, National Institutes of Health (National Heart, Lung, and Blood Institute)., 1/1/2018 - 12/31/2019, Obligated Amount: $438969; Anticipated Amount: $438969
African American Cardiovascular Pharmacogenetic Consortium (Account): Discovery and Translation, Northwestern University., 8/19/2016 - 5/31/2021, Obligated Amount: $484996; Anticipated Amount: $484996
African American Cardiovascular Pharmacogenetic Consortium (Account): Discovery and Translation Part 2, Northwestern University., 8/19/2016 - 5/31/2021, Obligated Amount: $475207; Anticipated Amount: $475207
African American Cardiovascular Pharmacogenetic Consortium (Account): Discovery and Translation Part 2, Northwestern University., 8/19/2016 - 5/31/2020, Obligated Amount: $380631; Anticipated Amount: $380631
Selected Publications
Leonard, CE, Brensinger, CM, Bilker, WB, Soprano, SE, Dhopeshwarkar, N, Hecht, TEH, Kasner, SE, Nutescu, EA, Holbrook, A, Carr, M, Ashcroft, DM, Chen, C, Hennessy, S. (2022). Thromboembolic Events in Users of Warfarin Treated with Different Skeletal Muscle Relaxants. Medicina (Lithuania), 58, (9). doi:10.3390/medicina58091171.
Thomas, Alveena, Fang, Margaret C, Kogan, Scott, Hubbard, Colin C, Friedman, Paula N, Gong, Li, Klein, Teri E, Nutescu, Edith A, O'Brien, Travis J, Tuck, Matthew, Perera, Minoli A, Schwartz, Janice B. (2022). Apixaban Concentrations in Routine Clinical Care of Older Adults With Nonvalvular Atrial Fibrillation. JACC Advances, 1, (2), 100039. doi:10.1016/j.jacadv.2022.100039.
Zolekar, A, Kim, K, Lee, JC, Han, J, Duarte, JD, Galanter, WL, Cavallari, LH, Nutescu, EA. (2022). Changing from mandatory to optional genotyping results in higher acceptance of pharmacist-guided warfarin dosing. Pharmacogenomics, 23, (2), 85-95. doi:10.2217/pgs-2021-0109.
Saulsberry, L, Danahey, K, Middlestadt, M, O'leary, KJ, Nutescu, EA, Chen, T, Lee, JC, Ruhnke, GW, George, D, House, L, van Wijk, XMR, Yeo, KTJ, Choksi, A, Hartman, SW, Knoebel, RW, Friedman, PN, Rasmussen, LV, Ratain, MJ, Perera, MA, Meltzer, DO, O'donnell, PH. (2021). Applicability of pharmacogenomically guided medication treatment during hospitalization of at-risk minority patients. Journal of Personalized Medicine, 11, (12). doi:10.3390/jpm11121343.
Yan, CH, Naveed, M, Alobaidi, A, Kopfman, M, Nutescu, EA, Sharp, LK. (2021). Association between transportation barriers and anticoagulation control among an inner-city, low-income population: A prospective observational cohort study. Research and Practice in Thrombosis and Haemostasis, 5, (7). doi:10.1002/rth2.12605.
Bussey, HI, Nutescu, EA, Harper, P. (2021). Can clinical pharmacists utilize telehealth to double the safety and efficacy of oral anticoagulation while reducing health care costs and improving patient satisfaction in patients with atrial fibrillation?. JACCP Journal of the American College of Clinical Pharmacy, 4, (8), 969-977. doi:10.1002/jac5.1484.
Guadamuz, JS, Durazo-Arvizu, RA, Daviglus, ML, Calip, GS, Nutescu, EA, Qato, DM. (2021). Statin nonadherence in Latino and noncitizen neighborhoods in New York City, Los Angeles, and Chicago, 2012-2016. Journal of the American Pharmacists Association, 61, (4), e263-e278. doi:10.1016/j.japh.2021.01.032.
Rahman, S, Srisuwananukorn, A, Molokie, RE, Gowhari, M, Njoku, F, Hussain, FA, Lee, J, Nutescu, EA, Gordeuk, VR, Saraf, SL, Han, J. (2021). Evaluation of point-of-care International Normalized Ratio in sickle cell disease. Research and Practice in Thrombosis and Haemostasis, 5, (4). doi:10.1002/rth2.12533.
Zhou, J, Sweiss, K, Nutescu, EA, Han, J, Patel, PR, Ko, NY, Lee, TA, Chiu, BCH, Calip, GS. (2021). Racial Disparities in Intravenous Bisphosphonate Use Among Older Patients With Multiple Myeloma Enrolled in Medicare. JCO oncology practice, 17, (3), e294-e312. doi:10.1200/OP.20.00479.
Professional Leadership
★ Scientific Editor, Pharmacotherapy, 2017 - Present
Notable Honors
★ 2019, Therapeutic Research Frontiers Award Nomination., American College of Clinical Pharmacy
★ 2019, Russell R. Miller Award., American College of Clinical Pharmacy
Education
Degrees:
Doctor of Pharmacy, University of Illinois Chicago, College of Pharmacy, United States
Master in Clinical and Translational Science (MS CTS), University of Illinois Chicago, School of Public Health, United States
Bachelor of Science, Polytechnic Institute, Bucharest, Romania
Postgraduate Training:
Primary Care Specialty Residency / Cardiovascular Emphasis ASHP Accredited, University of Illinois at Chicago, United States, 1996
Pharmacy Practice Residency ASHP Accredited, Lutheran General Hospital/Advocate Health Care, United States, 1995