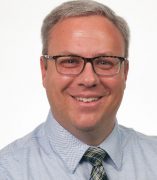 Jeffrey J Mucksavage

Clinical Pharmacist, Pharmacy Practice
Contact
Address:
833 S. Wood Street, Chicago, IL, 60612
Office Phone:
Email:
Selected Publications
Nutescu EA, Engle JP, Bathija S, Chan JJ, Mucksavage JH, Ohler KP, Tesoro EJ, Thielke JL, Shapiro NJ, Donnelly A, Garofalo JJ, DiDomenico R. Balance of academic responsibilities of clinical track pharmacy faculty in the United States: a survey of select American College of Clinical Pharmacy Practice and Research Network Members.. Pharmacotherapy. 2014;34(12):1239-49. doi:10.1002/phar.1521.
Benken ST, Tesoro EP, Kim K, Mucksavage JJ. Treatment outcomes of heparin-induced thrombocytopenia in subarachnoid hemorrhage patients: a 4-year, retrospective single-center review.. Neurocritical care. 2012;17(2):177-82. doi:10.1007/s12028-012-9725-x.
Panos N, Tesoro EP, Kim K, Mucksavage JJ. Outcomes associated with transdermal nicotine replacement therapy in a neurosurgery intensive care unit.. American journal of health-system pharmacy : AJHP : official journal of the American Society of Health-System Pharmacists. 2010;67(16):1357-61. doi:10.2146/ajhp090402.
Roitberg BJ, Emechebe-Kennedy OP, Amin-Hanjani S, Mucksavage J, Tesoro E. Human recombinant factor VII for emergency reversal of coagulopathy in neurosurgical patients: a retrospective comparative study.. Neurosurgery. 2005;57(5):832-6; discussion 832-6.
Slavin KV, Tesoro EP, Mucksavage JJ. The treatment of cancer pain.. Drugs of today (Barcelona, Spain : 1998). 2004;40(3):235-45.