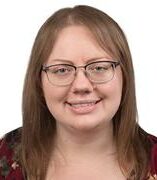 Laura M. Koppen

Clinical Assistant Professor, College of Pharmacy - Pharmacy Practice
Clinical Pharmacist, College of Pharmacy - Pharmacy Practice
Intro to Drug Information (PHAR 438), 1/9/2023 – 2/10/2023
Intro to Drug Information (PHAR 438), 1/9/2023 – 2/10/2023
Intro to Drug Information (PHAR 438), 1/10/2022 – 2/11/2022
Intro to Drug Information (PHAR 438), 1/10/2022 – 2/11/2022
Intro to Drug Information (PHAR 438), 1/11/2021 – 2/12/2021
Intro to Drug Information (PHAR 438), 1/11/2021 – 2/12/2021
Intro to Drug Information (PHAR 438), 1/11/2021 – 2/12/2021
Intro to Drug Information (PHAR 438), 1/11/2021 – 2/12/2021
Selected Publications
Ipema, Heather J, Elste, Jessica M, Koppen, Laura M, Soni, Rita, Kerns, Stefanie, Macrito, Rosa, Poznanski, Thomas, Szydlowski, Nicole. (2022). Inclusion of Optimal Guidelines for Pharmacists in UpToDate. Annals of Pharmacotherapy, 56, (9), 1084-1085. doi:10.1177/10600280211063950.
Bursua, Adam, Mudreac, Andrew, Koppen, Laura, Larson, Connie, Park, Yoon Soo, Sreedhar, Radhika. (2021). Effect of Default Order Standardization on Opioid Prescribing Patterns. The Joint Commission Journal on Quality and Patient Safety, 47, (7), 431-437. doi:10.1016/j.jcjq.2021.03.005.
Rodriguez, Ryan, Patel, Yesha A, Koppen, Laura, Ellinger, Lara. (2019). Characteristics of shortage-related drug information requests and recommendations from a nationally serving drug information center. American Journal of Health-System Pharmacy, 76, (23), 1900-1902. doi:10.1093/ajhp/zxz230.
Fernandez-Llimos, Fernando, Abu Farha, Rana K, Amin, Mohamed E, El-Sharif, Suleiman I, Jamshed, Shazia Q, Peron, Emily, Prudencio, Jarred, Shraim, Naser Y, Tegegn, Henok G, Tonin, Fernanda S, Zolezzi, Monica, Ababneh, Mera, Abdelaziz, Hani, Abdu-Aguye, Samirah N, Abebe, Molla, Akande-Sholabi, Wuraola, Alameddine, Sarah, Alzghari, Saeed K, Armoiry, Xavier, Arnet, Isabelle, Attarabeen, Omar F, Avent, Minyon, Awaisu, Ahmed, Axon, D Rhys, Aziz, Hafiz A, Bennie, Marion, Bheemavarapu, Harika, Blalock, Susan J, Borba, Helena H, Bradley, Alisha J, Brata, Cecilia, Breukels, Oscar, Cameron, Emily J, Carter, Jean T, Cavanaugh, Jamie J, Chalmers, Leanne, Chekani, Farid, Cobb, Brooklyn T, Cope, Anwen L, Cosentino, Marco, Crilly, Philip J, Dabaghzadeh, Fatemeh, Das, Saibal, Davies, Michael J, De Loof, Hans, Dickinson, Rebecca, Dos Santos, Marlise A, Ebbens, Marieke, Eckel, Stephen F, Ernst, Erika J, Fakeye, Titilayo O, Fang, Wentong, Fazel, Maryam T, Ferreri, Stefanie P, Fetterman, James W, Fong, Karen, Trigo, Lucia Franco, Gaskins, Jessica L, Gilmore, James, Gossell-Williams, Maxine, Groo, Vicki, Guayta-Escolies, Rafel, Guraya, Salman Y, Gyapong, Reginald, Hallit, Souheil, Harvey, Carrie, Hassali, Mohamed A, Hincapie, Ana L, Hites, Maya, Hoti, Kreshnik, Houle, Sherilyn, Jarernsiripornkul, Narumol, Kaae, Susanne, Sporrong, Sofia Kälvemark, Katoue, Maram G, Kauppinen, Hanna, Khalil, Viviane, Khdour, Maher, Kiiski, Annika, Knapp, Peter, Koppen, Laura M, Kovačević, Sandra V, Krska, Janet, Kruijtbosch, Martine, Lambert, Mark F, Lall, Dorothy, Law, Miranda G, Leonart, Leticia, Locatelli, Igor, Lonabaugh, Kevin P, Low, Jac K, Lucchetti, Giancarlo, Malfará, Márcia, Malhi, Saima M, May, Meghan E, Mayyas, Fadia, Mazhar, Faizan, Mensah, Kofi B, Mhanna, Razan G, Minto, Jenner, Modun, Darko, Moullin, Joanna C, Mukattash, Tareq L, Nduaguba, Sabina O, Ng, Siew-Yen, Nitadpakorn, Sujin, Odalović, Marina, Okumura, Lucas M, Oli, Angus N, Olsen, Amanda, Ong, Suan E, Pantuzza, Lais L, Patanwala, Sid E, Patterson, Julie A, Perdew, Cassie, Rivera, Alexandra Perez, Perman, Sarah, Peasah, Samuel K, Piper, Brian J, Prayitno, Adji, Rahman, Mohammad S, Richard, Craig A, Rodriguez, Brittany A, Rothholz, Mitchel C, Rotta, Inajara, Rzewuska, Magdalena, Sabah, Arif, Saini, Bandana, Saleem, Fahad, Salgado, Teresa M, Sarayani, Amir, Ali, Mostafa Sayed, Scalese, Michael J, Schutte, Tim, Seabury, Robert, Sendall, Marguerite, Seubert, Liza, Shaeer, Kristy M, Shander, Aryeh, Shao, Shih-Chieh, Shearer, Brenna, Shehnaz, Syed I, Shiyanbola, Olayinka O, Shroukh, Wejdan A, Siang, Tan Ching, Sim, Tin Fei, Singer, Donald R, Skelley, Jessica W, Skinner, Brian, Smith, Carmen B, Sri-on, Jiraporn, Stanton-Robinson, Chayla, Stupans, Ieva, Świeczkowski, Damian, Tan, Maw P, Tarfa, Adati, Taylor, Jeff, Teoh, Leanne, Theberge, Cory R, Tommelein, Eline, Veach, Stevie, Veal, Felicity, Díaz-Pallarés, Manuel Vélez, Volmer, Daisy, Ward, Eileen D, Westerlund, Tommy, Whittaker, Paula J, Wibowo, Yosi, Widayanti, Anna, Wilby, Kyle J, Wirth, Francesca, Wright, David, Yakum, Martin N, Yam, Felix K, Young, Natalie W, Zakaria, Nasriah, Zhao, Yanling. (2019). Peer review and publication delay. Pharmacy Practice, 17, (1), 1502-1502. doi:10.18549/pharmpract.2019.1.1502.
Koppen, Laura, Suda, Katie J, Rowan, Susan, McGregor, Jessina, Evans, Charlesnika T. (2018). Dentists' prescribing of antibiotics and opioids to Medicare Part D beneficiaries Medications of high impact to public health. The Journal of the American Dental Association, 149, (8), 721-730. doi:10.1016/j.adaj.2018.04.027.
Koppen, Laura M, Whitaker, Andrea, Rosene, Audrey, Beckett, Robert D. (2017). Efficacy of Berberine Alone and in Combination for the Treatment of Hyperlipidemia: A Systematic Review. Journal of Evidence-Based Integrative Medicine, 22, (4), 956-968. doi:10.1177/2156587216687695.
Koppen, L, Afanasjeva, Janna. (2017). A brief history of the FDA's role in the ongoing effort to ensure safe opioid use.. Pract Pain Manag., 17, (1), 62-67.
Koppen, Laura, Phillips, Jennifer, Papageorgiou, Renee. (2015). Analysis of reference sources used in drug-related Wikipedia articles.. Journal of the Medical Library Association, 103, (3), 140-144. doi:10.3163/1536-5050.103.3.007.
Education
Degrees:
Doctor of Pharmacy (PharmD), Midwestern University, United States, 2015
Pre-Pharmacy Dual Acceptance Program, Loyola University Chicago, United States, 2011
Postgraduate Training:
PGY2 ASHP-Accredited Drug Information Pharmacy Residency, University of Illinois at Chicago, United States, 2017
PGY1 ASHP-Accredited Pharmacy Residency, Parkview Health, United States, 2016