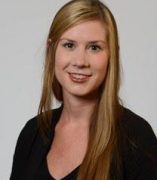 Laura Emily Meyer-Junco

Clinical Pharmacist, Regional Pharmacy Program: Rockford
Clinical Assistant Professor, Pharmacy Practice
Rockford
Contact
Address:
1601 Parkview Avenue, Rockford, IL, 61107
Office Phone:
Email:
CV Link:
About
Palliative Care/Hospice, Geriatrics, Pain Management, Internal Medicine, Geriatric Neurology and Psychiatry
Selected Publications
Meyer-Junco L. (2017). Medication Safety in the Older Adult. Pharmacy Tech Topics. Vol. 22. Issue 1. Page(s) 1-44.
Meyer-Junco L. The role of atypical bacteria in hospitalized patients with nursing home-acquired pneumonia. Hospital Pharmacy. 2016;51(9):768-777.
Meyer-Junco LE. Aripiprazole for the treatment of depression in palliative care. Journal of Palliative Medicine. 2015;18(4):316.
Meyer-Junco LE. Empathy and the new practitioner. Am J Health Syst Pharm. 2015;72(23):2042-2058.
Meyer LE, Brown JN. Tamsulosin for voiding dysfunction in women. Int Urol Nephrol. 2012;44(6):1649-1656.
Education
, PGY2 Geriatric Pharmacy Residency, Durham VA Medical Center/ Duke Center for Aging, Durham, NC
, PGY1 Pharmacy Practice Residency, University of Rochester Medical Center, Rochester, NY
PharmD, Doctor of Pharmacy, Purdue University, Lafayette, IN
BA, Biology/Pre-Pharmacy/Pre-Medicine, Augustana College, Rock Island, IL
Licensures and Certifications
American Pharmacists Association, Medication Therapy Management (MTM) Certificate, 2016
American Pharmacists Association, Pharmacy‐Based Immunization Certificate, 2016
American Society of Pain Educators (ASPE), Certified Pain Educator (CPE), 2015
Board of Pharmacy Specialties (BPS), Board Certified Pharmacotherapy Specialist (BCPS), 2011
American Heart Association (AHA), Advanced Cardiovascular Life Support (ACLS), 2010
Professional Memberships
Society of Palliative Care Pharmacists
Illinois Council of Health-System Pharmacists (ICHP)
American Academy of Hospice and Palliative Medicine (AAHPM)
American College of Clinical Pharmacy (ACCP)
American Society of Pain Educators (ASPE)