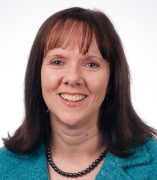 Nancy L Shapiro, PharmD, FCCP, BCACP, CACP

Clinical Professor, Pharmacy Practice
Coordinator, Antithrombosis Clinic, Ambulatory Pharmacy Services
Resident Director, Primary Care, Ambulatory Pharmacy Services
Clinical Pharmacist, Ambulatory Pharmacy Services
Contact
Building & Room:
CSB Rm 320
Address:
840 S. Wood Street, Chicago, IL, 60612
Office Phone:
Fax:
Email:
About
Research Interests: Dr. Shapiro's areas of interest include anticoagulation in a variety of settings, including venous thromboembolism, stroke prevention for atrial fibrillation, and pregnancy. Dr. Shapiro and the team of pharmacists from the Antithrombosis Clinic are taking part in the ACTIV-4 COVID-19 Trials as part of the Research Communication Center led by UIC for the Outpatient and the Post-discharge Trials.
Teaching Interests: Dr. Shapiro has been a clinical pharmacist, scholar, and educator in anticoagulation pharmacotherapy since 1997, training numerous UIC students and residents. In addition, she has trained many pharmacists and international trainees looking to create anticoagulation services at their own institutions, or gain additional clinical skills in this practice area. She serves as the coordinator, and instructor, International Pharmacy Student Experience, for international students, first offered in 2013 and was held annually in the summer through 2019.
Clinical Interests: Since 1997 her practice site is the Antithrombosis Clinic at the University of Illinois Outpatient Care Center, where she currently serves as Coordinator and Clinical Pharmacist.
Education
Other, Specialty Residency in Ambulatory Care, University of Illinois at Chicago
PharmD, University of Iowa
BS, BS Pharmacy, University of Iowa
Licensures and Certifications
Certified Anticoagulation Provider, 2017
Illinois Dept Professional Regulation, Illinois Pharmacist License, 1995
Iowa Board of Pharmacy, Iowa Pharmacist License, 1993
Board of Pharmacy Specialties, Board Certified Ambulatory Care Pharmacist, 2016
Board of Pharmacy Specialties, Board Certified Pharmacotherapy Specialist, 1997