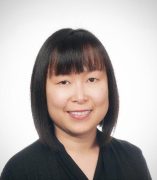 Nina S Huynh, PharmD, BCPS

Clinical Assistant Professor, Pharmacy Practice
Clinical Pharmacist, Ambulatory Pharmacy Services
Contact
Building & Room:
CSB Rm 308
Address:
840 S. Wood Street, Chicago, IL, 60612
Office Phone:
Email:
Selected Publications
Huynh NS. Oral agents for the treatment of type 2 DM (in Thai). Pharmatime. 2004;15:10-15.
Huynh NS. Drug therapy in thromboembolic disorders. Textbook of Pharmacotherapy (Thai Edition). Bangkok: Holistic Publishing; 2003: 59-75
Huynh NS. Insulin therapy for diabetic patients (in Thai). Medical Time. 2003;96:37-38.
Huynh NS. New drugs in new millennium-respiratory. The first national forum of continuing medical education. Bangkok: Medimedia; 2003: 275-279
Huynh NS. Effective treatment of diabetes mellitus. Current Therapy and New Drugs. Nakhon Pathom: Silpakorn University; 2002: 23-25
Huynh NS. Updated in anticoagulation therapy for thromboembolic disorders. Advances in pharmaceutical care and pharmacotherapeutics. Bangkok: New MitThai; 2002: 1-9
Education
Residency, Pharmacy Practice, , Rush-Presbyterian-St. Luke's Medical Center, Chicago, IL
PharmD, , University of Illinois at Chicago, Chicago, IL
BS, Pharmacy (First Honors), Silpakorn University Faculty of Pharmacy, Nakhon Pathom, Thailand
Licensures and Certifications
Board of Pharmacy Specialties, Pharmacotherapy (BCPS), 2000
Illinois, Registered Pharmacist, 1999
Thailand, Registered Pharmacist, 1997
Professional Memberships
American College of Clinical Pharmacy
Illinois Council of Health-System Pharmacists
The Pharmacy Council of Thailand