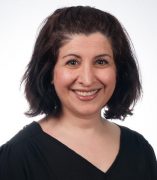 Nehrin W Khamo

Ambulatory Pharmacy Coordinator, Ambulatory Pharmacy Services
Clinical Pharmacist, Ambulatory Pharmacy Services
Clinical Instructor, Pharmacy Practice
Contact
Building & Room:
Specialty Pharmacy Services
Address:
840 S. Wood Street, Chicago, IL, 60612
Office Phone:
Email:
Selected Publications
Anguiano RH, Gannon MJ, Khamo NW, Sodhi MS, Orr A, Stubbings J. Improvement in safety monitoring of biologic response modifiers after the implementation of clinical care guidelines by a specialty.. Journal of managed care pharmacy : JMCP. 2013;19(1):49-67.