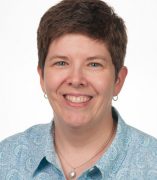 Kirsten H Ohler

Clinical Associate Professor, Pharmacy Practice
Clinical Pharmacist - Neonatal Intensive Care Unit, Pharmacy Practice
Program Director - PGY2 Pediatric Pharmacy Residency, Pharmacy Practice
Contact
Building & Room:
CSB Rm 348
Address:
833 S. Wood Street (M/C 886), Chicago, IL, 60612
Office Phone:
Email:
Selected Publications
Ohler KH, Pham JT. "The effect of morphine dosing on length of stay in neonatal abstinence syndrome – An alternative viewpoint". Pharmacotherapy. 2017;37(11):e122-e123.
Bondi DS, Ohler KH. Vasopressin and hemodynamic effects on the neonate.. NeoReviews. 2017;18(8):e460-e471.
Raithel DS, Ohler KH, Porto I, Bicknese AR, Kraus DM. Morphine: An Effective Abortive Therapy for Pediatric Paroxysmal Sympathetic Hyperactivity After Hypoxic Brain Injury.. The journal of pediatric pharmacology and therapeutics : JPPT : the official journal of PPAG. 2015;20(4):335-40. doi:10.5863/1551-6776-20.4.335.
Nutescu EA, Engle JP, Bathija S, Chan JJ, Mucksavage JH, Ohler KP, Tesoro EJ, Thielke JL, Shapiro NJ, Donnelly A, Garofalo JJ, DiDomenico R. Balance of academic responsibilities of clinical track pharmacy faculty in the United States: a survey of select American College of Clinical Pharmacy Practice and Research Network Members.. Pharmacotherapy. 2014;34(12):1239-49. doi:10.1002/phar.1521.
Ohler KH, Pham JH. Comparison of the timing of initial prophylactic palivizumab dosing on hospitalization of neonates for respiratory syncytial virus.. American journal of health-system pharmacy : AJHP : official journal of the American Society of Health-System Pharmacists. 2013;70(15):1342-6. doi:10.2146/ajhp120526.
Dandeles LM, Ohler KH. Pharmacotherapy of pediatric advanced life support and toxicological emergencies.. AACN advanced critical care. 2012;23(4):398-412; quiz 413-4. doi:10.1097/NCI.0b013e31826b4c70.
Mezu-Ndubuisi OJ, Agarwal G, Raghavan A, Pham JH, Ohler KH, Maheshwari A. Patent ductus arteriosus in premature neonates.. Drugs. 2012;72(7):907-16. doi:10.2165/11632870-000000000-00000.
Ohler KH, Menke JA, Fuller L. Use of higher dose extended interval aminoglycosides in a neonatal intensive care unit.. American journal of perinatology. 2000;17(6):285-90. doi:10.1055/s-2000-13436.
Education
OtherPGY2 Pediatric Pharmacy Residency, , Children's Hospital, Columbus, OH
OtherPGY1 Pharmacy Practice Residency, , University of Illinois at Chicago,
PharmD, Pharmacy, University of Toledo, Toledo, OH
BS, Pharmacy, Ohio Northern University, Ada, OH
Licensures and Certifications
, Board Certified Pediatric Pharmacy Specialist (BCPPS), 2015
, Board Certified Pharmacotherapy Specialist (BCPS), 2001
Professional Memberships
American College of Clinical Pharmacy
American Society of Health-System Pharmacists
Pediatric Pharmacy Advocacy Group