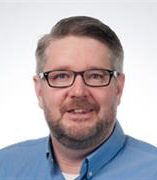 Richard A. Gemeinhart

Professor, College of Pharmacy - Pharmaceutical Sciences
Professor, Colleges of Engineering and Medicine - Bioengineering
Professor, College of Engineering - Chemical Engineering
Professor, College of Medicine - Ophthalmology & Visual Sciences
Associate Vice Chancellor for Research, Office of the Vice Chancellor for Research
Research Integrity Officer, Office of the Vice Chancellor for Research
Director of Graduate Studies, Biopharmaceutical Sciences, College of Pharmacy - Pharmaceutical Sciences
Pharmaceutics and Drug Delivery Concentration Coordinator, Pharmaceutical Sciences
Contact
Address:
833 South Wood Street (MC 781), 357 College of Pharmacy Building, Chicago, IL
Office Phone:
Email:
Related Sites:
About
Research Interests:
Prof. Gemeinhart's laboratory focuses on understanding the stability, assembly, disassembly, and impact of biomaterials used for drug delivery focusing on polymeric drug delivery systems capable of delivering small molecules and biomacromolecules.
Selected Grants
Novel Injectable Nanocrystal Drug to Treat Acute Respiratory Distress Syndrome (ARDS), University of Illinois at Chicago Discovery Partners Institute., 8/16/2019 - 6/1/2021, Obligated Amount: $100000; Anticipated Amount: $100000
A Novel nanoparticle Delivery System of miRNAs for Orthodontic Purposes, Amer Assn of Orthodtists Fdn., 7/1/2019 - 6/30/2022, Obligated Amount: $30000; Anticipated Amount: $30000
Selected Publications
Sokolowski, K, Pham, HM, Wenzler, E, Gemeinhart, RA. (2021). Glutathione-Conjugated Hydrogels: Flexible Vehicles for Personalized Treatment of Bacterial Infections. Pharmaceutical Research, 38, (7), 1247-1261. doi:10.1007/s11095-021-03057-1.
★ Langridge, Timothy D, Gemeinhart, Richard A. (2020). Toward understanding polymer micelle stability: Density ultracentrifugation offers insight into polymer micelle stability in human fluids.. J Control Release, 319, 157-167. doi:10.1016/j.jconrel.2019.12.038.
Liu, Y, Zhang, Y, Chen, SN, Friesen, JB, Nikolić, D, Choules, MP, McAlpine, JB, Lankin, DC, Gemeinhart, RA, Pauli, GF. (2018). The influence of natural deep eutectic solvents on bioactive natural products: studying interactions between a hydrogel model and Schisandra chinensis metabolites. Fitoterapia, 127, 212-219. doi:10.1016/j.fitote.2018.02.024.
Rayahin, JE, Gemeinhart, RA. (2017). Activation of macrophages in response to biomaterials. Results and Problems in Cell Differentiation. (pp. 317-351). doi:10.1007/978-3-319-54090-0_13.
★ Zhang, Y, Buhrman, JS, Liu, Y, Rayahin, JE, Gemeinhart, RA. (2016). Reducible Micelleplexes are Stable Systems for Anti-miRNA Delivery in Cerebrospinal Fluid. Molecular Pharmaceutics, 13, (6), 1791-1799. doi:10.1021/acs.molpharmaceut.5b00933.
Jaishankar, D, Buhrman, JS, Gemeinhart, RA, Valyi-Nagy, T, Shukla, D. (2016). Extended release of an anti–heparan sulfate peptide from a contact lens suppresses corneal herpes simplex virus-1 infection. Investigative Ophthalmology and Visual Science, 57, (1), 169-180. doi:10.1167/iovs.15-18365.
★ Rayahin, JE, Buhrman, JS, Zhang, Y, Koh, TJ, Gemeinhart, RA. (2015). High and Low Molecular Weight Hyaluronic Acid Differentially Influence Macrophage Activation. ACS Biomaterials Science and Engineering, 1, (7), 481-493. doi:10.1021/acsbiomaterials.5b00181.
★ Zhang, Y, Liu, Y, Sen, S, Král, P, Gemeinhart, RA. (2015). Charged group surface accessibility determines micelleplexes formation and cellular interaction. Nanoscale, 7, (17), 7559-7564. doi:10.1039/c5nr00095e.
★ Rayahin, JE, Buhrman, JS, Gemeinhart, RA. (2014). Melittin-glutathione S-transferase fusion protein exhibits anti-inflammatory properties and minimal toxicity. European Journal of Pharmaceutical Sciences, 65, 112-121. doi:10.1016/j.ejps.2014.09.012.
Notable Honors
2019, Graduate Mentoring Award, University of Illinois at Chicago
Education
Degrees:
Ph.D, Purdue University, United States, 1999
B.S.E, Purdue University, United States, 1994
Postgraduate Training:
Postdoctoral, Cornell University, United States, 2001