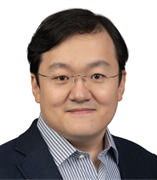 Yu Gao

Associate Professor, Pharmaceutical Sciences
Associate Member, University of Illinois Cancer Center
Affilated Member, Bioengineering
Overview:
Gao lab website: https://lab.gy
Research Interests:
Proteomics, single-cell analysis, chemical biology
Doctoral Restch in Med Chem (MDCH 599), 6/12/2023 – 8/4/2023
PhD Thesis Research (BPS 599), 6/12/2023 – 8/4/2023
PhD Thesis Research (BPS 599), 1/9/2023 – 4/28/2023
Doctoral Restch in Med Chem (MDCH 599), 1/9/2023 – 4/28/2023
Biomedicinal Chemistry (PHAR 423), 1/9/2023 – 4/28/2023
Biomedicinal Chemistry (PHAR 423), 1/9/2023 – 4/28/2023
Doctoral Restch in Med Chem (MDCH 599), 8/22/2022 – 12/2/2022
PhD Thesis Research (BPS 599), 8/22/2022 – 12/2/2022
Doctoral Restch in Med Chem (MDCH 599), 5/16/2022 – 7/21/2022
Selected Grants
Enhanced mass-spectrometry-based approaches for in-depth profiling of the cancer extracellular matrix, National Institutes of Health (National Cancer Institute)., 9/15/2022 - 8/31/2025, Obligated Amount: $417639; Anticipated Amount: $564494
Thinking outside the cell: Leveraging HuBMAP data to build the human ECM atlas, National Institutes of Health (National Human Genome Research Institute)., 7/1/2022 - 4/30/2026, Obligated Amount: $994000; Anticipated Amount: $1959288
Elucidating the function of the non-classical HLA-DQ?2/HLA-DQ?2 in asthma, Chicago Biomedical Consortium., 10/1/2021 - 9/30/2023, Obligated Amount: $147274; Anticipated Amount: $147274
Defining the differential roles of HOIL1 and the Linear Ubiquitin Chain Assembly Complex in interferon induction by MDA5 and RIG-I during viral infection., National Institutes of Health (National Institute of Allergy and Infectious Diseases)., 6/1/2021 - 5/31/2026, Obligated Amount: $1200944; Anticipated Amount: $1945124
Palbociclib in combination with Tamoxifen as first line therapy for metastatic hormone receptor positive breast cancer, Big Ten Cancer Research Consortium., 6/1/2021 - 5/31/2021, Obligated Amount: $64063; Anticipated Amount: $64063
Identification of the target of meclonazepam in schistosome worms, Rush University Medical Center., 2/22/2021 - 1/31/2022, Obligated Amount: $79950; Anticipated Amount: $119925
Identification of the target of meclonazepam in schistosome worms, Rush University Medical Center., 2/22/2021 - 1/31/2022, Obligated Amount: $79950; Anticipated Amount: $119925
Single-cell spatial proteomics for geographic profiling of the protein expression in ovarian tumors, University of Illinois Cancer Center., 9/1/2020 - 8/31/2021, Obligated Amount: $50000; Anticipated Amount: $50000
Highly sensitive proteomics method to probe cell heterogeneity at single cell resolution, National Institutes of Health (National Institute of General Medical Sciences)., 9/1/2019 - 6/30/2024, Obligated Amount: $1970445; Anticipated Amount: $1970445
Proteomics data analysis for the prediction of protein biomarkers, Shanghai Renascence Insurtech Limited Company., 1/1/2019 - 12/31/2019, Obligated Amount: $12792; Anticipated Amount: $12792
Selected Publications
Maldonado, Amanda C, Haughan, Monica A, Khin, Manead, Ekiert, Julia, Zhang, Ziwei, Lantvit, Daniel, Subeh, Zeinab Y Al, Pierre, Herma C, Salkovski, Maryna, Hirschhorn, Tal, Gao, Yu, Pearce, Cedric J, Stockwell, Brent R, Aldrich, Leslie N, Oberlies, Nicholas H, Burdette, Joanna E. (2023). Probing the Cytotoxic Signaling Induced by Eupenifeldin in Ovarian Cancer Models. Journal of Natural Products. doi:10.1021/acs.jnatprod.3c00186.
Shao, Xinhao, Grams, Christopher, Gao, Yu. (2023). Sequence Coverage Visualizer: A Web Application for Protein Sequence Coverage 3D Visualization. Journal of Proteome Research, 22, (2), 343-349. doi:10.1021/acs.jproteome.2c00358.
Zhang, Ziwei, Gao, Yu. (2023). Evaluation of the Binding Preference of Microtubes for Nanoproteomics Sample Preparation. Journal of Proteome Research, 22, (1), 279-284. doi:10.1021/acs.jproteome.2c00477.
Shao, Xinhao, Taha, Isra N, Clauser, Karl R, Gao, Yu, Naba, Alexandra. (2020). MatrisomeDB: the ECM-protein knowledge database. Nucleic Acids Research, 48, (D1), d1136-d1144. doi:10.1093/nar/gkz849.
Gao, Yu, Yates, John R. (2019). Protein Analysis by Shotgun Proteomics. Mass Spectrometry‐Based Chemical Proteomics. (pp. 1-38). Wiley. doi:10.1002/9781118970195.ch1.
Jain, Ashay, Jain, Atul, Parajuli, Prahlad, Mishra, Vijay, Ghoshal, Gargi, Singh, Bhupinder, Shivhare, Uma Shankar, Katare, Om Prakash, Kesharwani, Prashant. (2018). Recent advances in galactose-engineered nanocarriers for the site-specific delivery of siRNA and anticancer drugs. Drug Discovery Today, 23, (5), 960-973. doi:10.1016/j.drudis.2017.11.003.
Aguilar, Aime Lopez, Gao, Yu, Hou, Xiaomeng, Lauvau, Gregoire, Yates, John R, Wu, Peng. (2017). Profiling of Protein O‑GlcNAcylation in Murine CD8+ Effector- and Memory-like T Cells. ACS Chemical Biology, 12, (12), 3031-3038. doi:10.1021/acschembio.7b00869.
Xu, T, Park, SK, Venable, JD, Wohlschlegel, JA, Diedrich, JK, Cociorva, D, Lu, B, Liao, L, Hewel, J, Han, X, Wong, CCL, Fonslow, B, Delahunty, C, Gao, Y, Shah, H, Yates, JR. (2015). ProLuCID: An improved SEQUEST-like algorithm with enhanced sensitivity and specificity. Journal of Proteomics, 129, 16-24. doi:10.1016/j.jprot.2015.07.001.
Doran, Todd M, Gao, Yu, Simanski, Scott, McEnaney, Patrick, Kodadek, Thomas. (2015). High affinity binding of conformationally constrained synthetic oligomers to an antigen-specific antibody: Discovery of a diagnostically useful synthetic ligand for murine Type 1 diabetes autoantibodies. Bioorganic & Medicinal Chemistry Letters, 25, (21), 4910-4917. doi:10.1016/j.bmcl.2015.05.046.
Education
Degrees:
PhD, Scripps Research Institute, United States