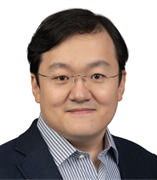 Yu Gao

Assistant Professor, Pharmaceutical Sciences
Associate Member, University of Illinois Cancer Center
Overview:
Gao lab website: lab.gy
Research Interests:
Proteomics, single-cell analysis, chemical biology
PhD Thesis Research (BPS 599), 8/22/2022 – 12/2/2022
Doctoral Restch in Med Chem (MDCH 599), 8/22/2022 – 12/2/2022
Doctoral Restch in Med Chem (MDCH 599), 5/16/2022 – 7/21/2022
Medicinal Chemistry (PSCI 530), 1/10/2022 – 4/29/2022
Biomedicinal Chemistry (PHAR 423), 1/10/2022 – 4/29/2022
Biomedicinal Chemistry (PHAR 423), 1/10/2022 – 4/29/2022
PhD Thesis Research (BPS 599), 1/10/2022 – 4/29/2022
Doctoral Restch in Med Chem (MDCH 599), 1/10/2022 – 4/29/2022
PhD Thesis Research (BPS 599), 8/23/2021 – 12/3/2021
Selected Grants
Enhanced mass-spectrometry-based approaches for in-depth profiling of the cancer extracellular matrix, National Institutes of Health (National Cancer Institute)., 9/15/2022 - 8/31/2025, Obligated Amount: $211059; Anticipated Amount: $564494
Thinking outside the cell: Leveraging HuBMAP data to build the human ECM atlas, National Institutes of Health (National Human Genome Research Institute)., 7/1/2022 - 4/30/2026, Obligated Amount: $465000; Anticipated Amount: $1809288
Elucidating the function of the non-classical HLA-DQ?2/HLA-DQ?2 in asthma, Chicago Biomedical Consortium., 10/1/2021 - 9/30/2023, Obligated Amount: $147274; Anticipated Amount: $147274
Defining the differential roles of HOIL1 and the Linear Ubiquitin Chain Assembly Complex in interferon induction by MDA5 and RIG-I during viral infection., National Institutes of Health (National Institute of Allergy and Infectious Diseases)., 6/1/2021 - 5/31/2026, Obligated Amount: $778246; Anticipated Amount: $1945124
Palbociclib in combination with Tamoxifen as first line therapy for metastatic hormone receptor positive breast cancer, Big Ten Cancer Research Consortium., 6/1/2021 - 5/31/2021, Obligated Amount: $64063; Anticipated Amount: $64063
Identification of the target of meclonazepam in schistosome worms, Rush University Medical Center., 2/22/2021 - 1/31/2022, Obligated Amount: $79950; Anticipated Amount: $119925
Identification of the target of meclonazepam in schistosome worms, Rush University Medical Center., 2/22/2021 - 1/31/2022, Obligated Amount: $79950; Anticipated Amount: $119925
Single-cell spatial proteomics for geographic profiling of the protein expression in ovarian tumors, University of Illinois Cancer Center., 9/1/2020 - 8/31/2021, Obligated Amount: $50000; Anticipated Amount: $50000
Highly sensitive proteomics method to probe cell heterogeneity at single cell resolution, National Institutes of Health (National Institute of General Medical Sciences)., 9/1/2019 - 6/30/2024, Obligated Amount: $1576356; Anticipated Amount: $1970445
Proteomics data analysis for the prediction of protein biomarkers, Shanghai Renascence Insurtech Limited Company., 1/1/2019 - 12/31/2019, Obligated Amount: $12792; Anticipated Amount: $12792
Selected Publications
Zhang, Z, Gao, Y. (2023). Evaluation of the Binding Preference of Microtubes for Nanoproteomics Sample Preparation. Journal of Proteome Research, 22, (1), 279-284. doi:10.1021/acs.jproteome.2c00477.
Guo, J, Shen, S, Liu, M, Wang, C, Low, B, Chen, Y, Hu, Y, Xing, S, Yu, H, Gao, Y, Fang, M, Huan, T. (2022). JPA: Joint Metabolic Feature Extraction Increases the Depth of Chemical Coverage for LC-MS-Based Metabolomics and Exposomics. Metabolites, 12, (3). doi:10.3390/metabo12030212.
Shao, X, Grams, C, Gao, Y. (2022). Sequence Coverage Visualizer: A Web Application for Protein Sequence Coverage 3D Visualization. Journal of Proteome Research. doi:10.1021/acs.jproteome.2c00358.
Mangano, K, Florin, T, Shao, X, Klepacki, D, Chelysheva, I, Ignatova, Z, Gao, Y, Mankin, AS, Vázquez-Laslop, N. (2020). Genome-wide effects of the antimicrobial peptide apidaecin on translation termination in bacteria. eLife, 9, 1-24. doi:10.7554/eLife.62655.
Shao, X, Taha, IN, Clauser, KR, Gao, Y, Naba, A. (2020). MatrisomeDB: The ECM-protein knowledge database. Nucleic Acids Research, 48, (D1), D1136-D1144. doi:10.1093/nar/gkz849.
Gao, Y, Dasgupta, C, Huang, L, Song, R, Zhang, Z, Zhang, L. (2019). Multi-omics integration reveals short and long-term effects of gestational hypoxia on the heart development. Cells, 8, (12). doi:10.3390/cells8121608.
Gao, Y, Yates, JR. (2019). Protein analysis by shotgun proteomics. Mass Spectrometry-Based Chemical Proteomics. (pp. 1-38). doi:10.1002/9781118970195.ch1.
Jain, A, Jain, A, Parajuli, P, Mishra, V, Ghoshal, G, Singh, B, Shivhare, US, Katare, OP, Kesharwani, P. (2018). Recent advances in galactose-engineered nanocarriers for the site-specific delivery of siRNA and anticancer drugs. Drug Discovery Today, 23, (5), 960-973. doi:10.1016/j.drudis.2017.11.003.
Aguilar, Aime Lopez, Gao, Yu, Hou, Xiaomeng, Lauvau, Gregoire, Yates, John R, Wu, Peng. (2017). Profiling of Protein O‑GlcNAcylation in Murine CD8+ Effector- and Memory-like T Cells. ACS Chemical Biology, 12, (12), 3031-3038. doi:10.1021/acschembio.7b00869.
Education
Degrees:
PhD, Scripps Research Institute, United States