Alumni Profile: Dr. Yee-Ming Lee, PharmD '12, RES 13, RES '14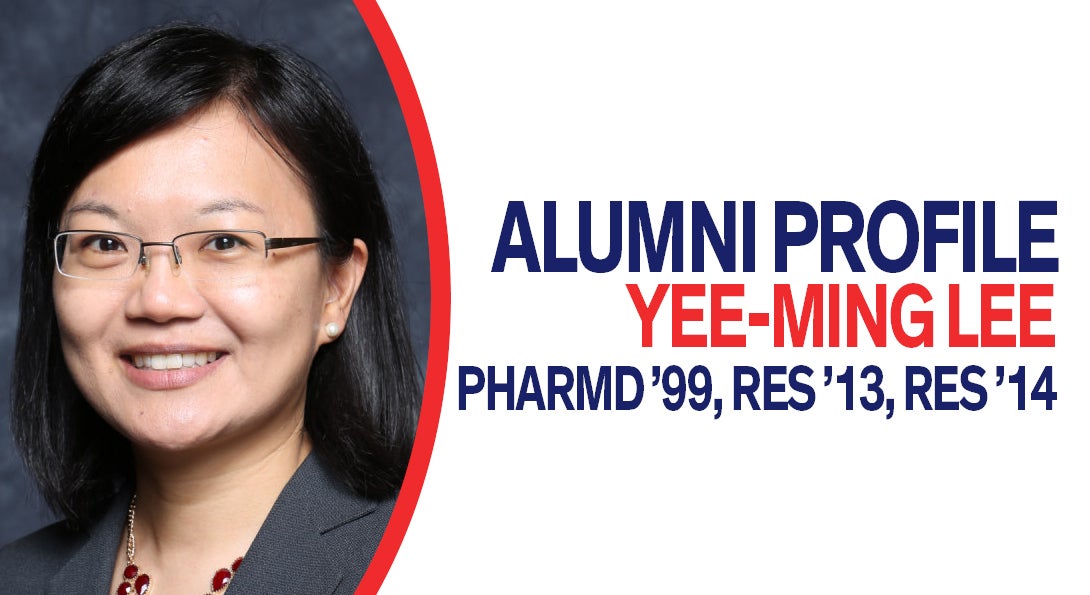 Yee-Ming Lee explores uncharted ground in pharmacogenomics
From Singapore to Australia, then Chicago to Colorado, Dr. Yee Ming Lee (PharmD '12, RES '13, RES '14) has studied and worked across the globe. Her biggest step into the unknown, however, may have come in exploring the "uncharted ground" of pharmacogenomics.
"Some people still think pharmacogenomics is science fiction."
Now an assistant professor at the University of Colorado, Lee works with a large multidisciplinary team to implement personalized medicine across UCHealth. That work means constantly learning about new developments, while educating herself and others on how to translate pharmacogenomics to clinical practice. "Some people still think pharmacogenomics is science fiction," Lee said. "But I say, 'No, the train has left the station!'" Many institutions are adopting pharmacogenomics, she added, making it "a very exciting field" for pharmacists.
The field, at its core, is the use of "an individual's genetic profile to help one choose the right drug and the right dose, instead of applying a one-size-fits-all approach," Lee said.
The University of Colorado expanded into the new field at an opportune time for Lee. UC created a faculty position for the clinical implementation of pharmacogenomics just as Lee was finishing her post-UIC residency and fellowship training in the field.
Good timing has been a theme for Lee. Just as she was finishing her PGY1 residency at UIC, the college launched a pharmacogenomics PGY2 program. Dr. Janet Engle, then head of the Department of Pharmacy Practice, offered Lee the opportunity to be the college's first pharmacogenomics resident. Lee subsequently completed a clinical pharmacology and pharmacogenomics fellowship at the University of Chicago.
"It was kind of serendipitous," Lee said. "When I came into it . . . I didn't have someone to role-model it for me. It was uncharted ground, and I'm very grateful to have entered it."
A Singapore native, Lee took the long journey to her specialty, completing her undergraduate pharmacy education and a master's in pharmaceutical sciences in Australia before practicing as a hospital pharmacist in Singapore. The move to Chicago came after Lee met UIC's globe-trotting Dr. Alan Lau and applied to the college's PharmD program. Lee said she's extremely thankful for the "very strong clinical foundation [UIC] provided in my career."