Residency Spotlight: Dr. Patrick Ndungu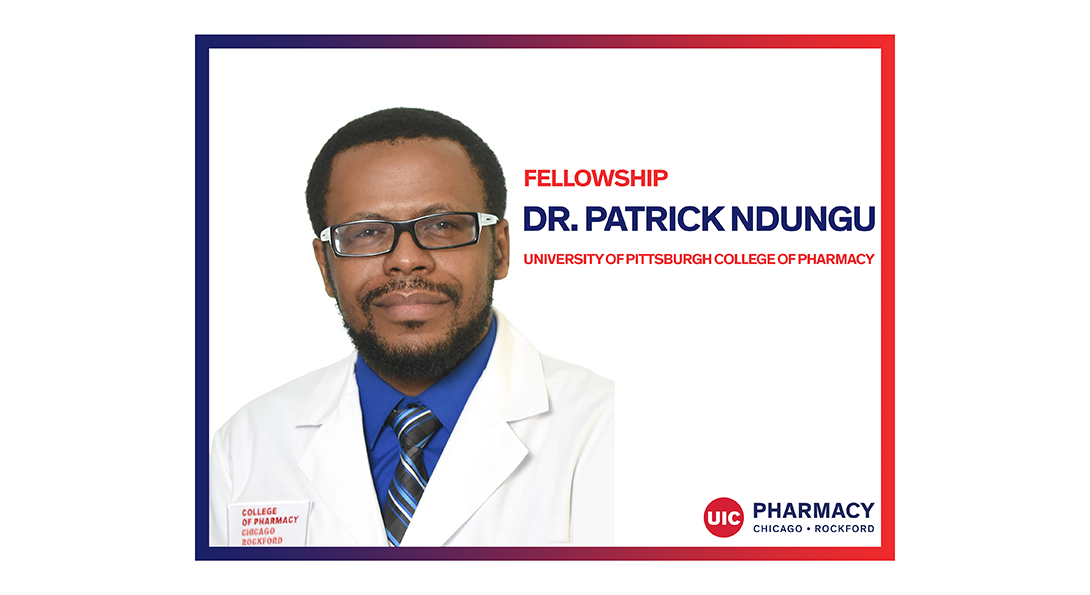 The UIC College of Pharmacy ranks in the top ten nationally in matching students into residencies and fellowships. In celebration of that fact, we're highlighting some of this year's outstanding students and where they will do their residencies or fellowships.
Dr. Patrick Ndungu will be completing a fellowship at the University of Pittsburgh School of Pharmacy.
What are your post-graduate plans?
I will be joining the Department of Pharmacy and Therapeutics at the University of Pittsburgh School of Pharmacy as a Pharmacoanalytics and Pharmacovigilance Fellow of Natural Product Drug lnteractions.
What are you looking forward to post-graduation?
I'm looking forward to the chance to apply what I have learned at UIC and apply that to my research. I am looking forward to knowing more about natural products, drug interactions, and contributing to this growing field. I hope that the work I do will enable us to investigate the safety of natural products and their involvement in potentially harmful drug interactions.
How has your experience at UIC College of Pharmacy prepared you for what's next in your career?
I loved my experiences at UIC and the wide range of rotations that I was able to take while at UIC. My research involves different aspects such as pharmacoanalytics, pharmacovigilance, and translational research of natural products and drug interactions. During my time at UIC, whether it's in class or during rotations, I was able to gain some insight into what's next in my career in addition to having an understanding of both in-vitro and clinical research. The faculty and preceptors at UIC are awesome educators and have given me diverse experiences geared towards my career goals and have always been supportive!
Any advice for students who are interested in pursuing a PharmD?
Find your niche. UIC College of Pharmacy offers a wide range of experiences for everyone. There are multiple opportunities for internships, bench-top, and clinical research - as well as a wide variety of rotations. It's certainly the place to be if you are sure or undecided on what to do after your PharmD. It will make you a strong candidate for what's next and give you ample opportunity to try out new things as pharmacy is also evolving and UIC is at the forefront of that.