UIC College of Pharmacy faculty, staff, and students honored at ICHP Annual Meeting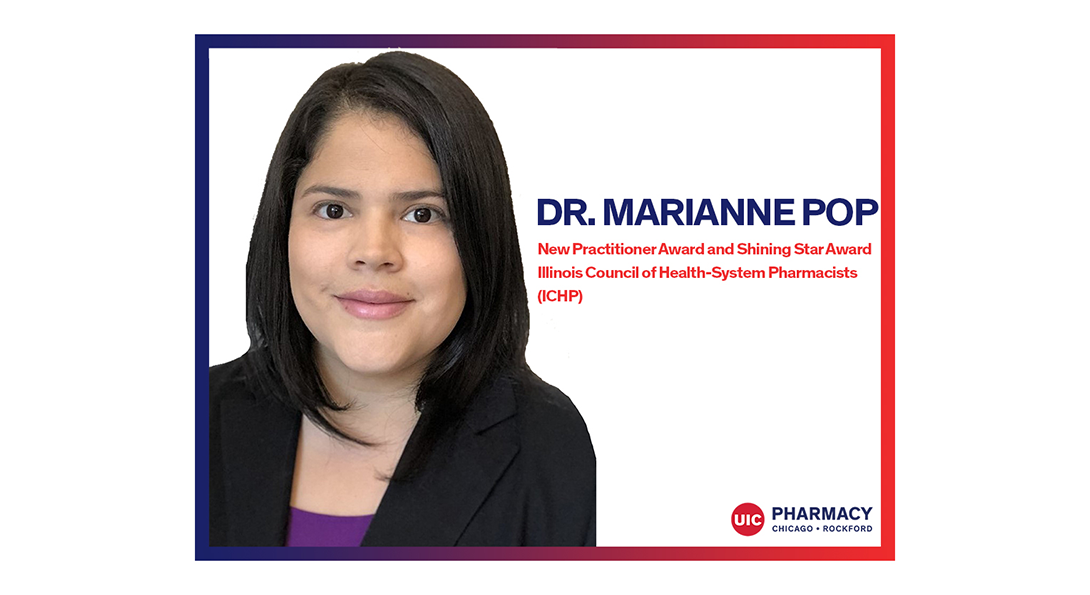 Dr. Marianne Pop, clinical assistant professor of pharmacy practice, was honored with the New Practitioner Award and the Shining Star Award at the Illinois Council of Health-System Pharmacists (ICHP) annual meeting on September 23-25.
"It is an honor to be recognized by my peers within ICHP," said Dr. Pop. "I hope to continue to serve ICHP, UIC, and the pharmacy profession for years to come."
The theme of this year's meeting was "Building Bridges -- Connecting Through Care" and members from all over the state tuned in for continuing education programs, a residency showcase, and an awards ceremony.
Dr. Kevin Rynn, vice dean of the Rockford campus, shared his excitement about Dr. Pop's recent honor. "Dr. Pop's active involvement has led ICHP to recognize her efforts by granting her these prestigious awards; she serves as a great role model for our students!"
During the annual meeting, Drs. Alice Hemenway and Oksana Kucher presented COVID-related presentations and Drs. Chris Schriever, Annette Hays, and Aaron Hunt attended the residency showcase to represent our PGY1 residency programs. Dr. Kay Yamamoto, coordinator for medication safety and quality at UI Health and former Health-System Pharmacy Administration and Leadership PGY2 resident.
In addition to winning two awards - the New Practitioner Award and the Shining Star Award - Dr. Pop also moderated a few sessions during the meeting as well.
UIC took home a total of four awards at ICHP this year: Dr. Pop's two awards, in addition to Pharmacy Technician of the Year, awarded to UI Health's Annexiea Buford, CPhT and the UIC Student Chapter of ICHP won the Student Chapter Award.
Dr. Pop concluded by reflecting on what these awards mean to her. "These awards inspire me to continue to support others through leadership. Those that like to help others do not do it for the accolades, but for the possibility of changing lives."
Modified on October 06, 2021