UIC College of Pharmacy's New Fellowship Offers a Unique Blend of Critical Care and Infectious Disease Training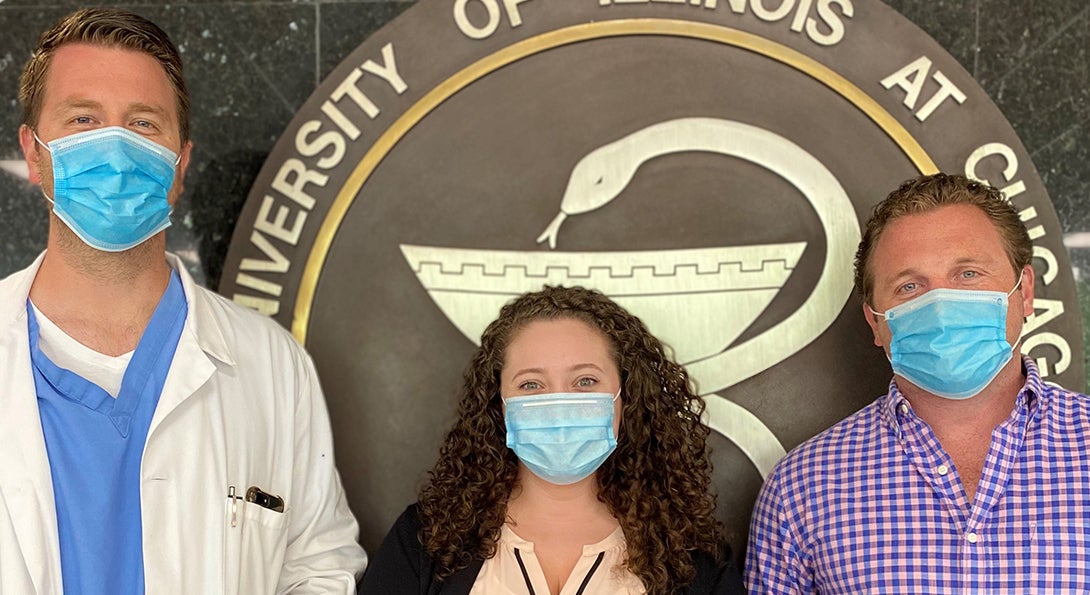 New Critical Care and Infectious Disease Fellowship
Dr. Lauren Andrews wasn't originally planning on pursuing a fellowship at UIC. But when the coronavirus pandemic interrupted her job hunt as she was finishing up her residency, she found herself shifting her vision for the future.
A Memphis, Tenn., native, Andrews completed her PGY1 in Pharmacy Practice at the University of Kansas Health System and her PGY2 in Critical Care at UIC. When she was approached by Drs. Scott Benken and Eric Wenzler to consider a new fellowship that would bring together critical care and infectious diseases, she was pleased to continue her training at UIC, where she felt welcomed "more like a colleague" during her residency.
"Being the largest post-PharmD training program in terms of residencies and fellowships, we have the expertise to provide this training," says Dr. Edith Nutescu, Head of Pharmacy Practice. "The niche of research training combining critical care and infectious diseases was missing, not only locally but also nationally,"
Under the combined direction of Benken, Clinical Associate Professor, and Assistant Professor Wenzler, the program brings together two different areas of research and practice as well as featuring a unique collaboration between clinical and research-based tenure-track co-mentors.
"Most post-PharmD training programs focus on either the clinical side or research, and the uniqueness of this program is that it combines both in an area of practice and research need, filling a gap," Nutescu explains.
Wenzler, a clinical-scientist researcher and board-certified infectious disease pharmacist, believes the program will offer fellows the opportunity to develop a valuable and diverse skillset, making them competitive clinical-scientists. He believes that, because of the uniqueness of the program, he and Benken will be able to rely on one another's expertise to tailor the training toward the specific career goals of the fellow.
For example, Wenzler explains, for the fellow interested in pursuing a tenure-track academic career, the program would involve more grant writing and bench research. If the fellow is seeking a clinically focused path, the training would involve more clinical work and clinical translational research.
"We'll be working with all four phases of clinical trials, with patients--it will be a step up in the rigor of the research," Wenzler says. "All of these things will set Lauren and our future trainees apart."
Benken, who practices at the UI Health Medical and Cardiothoracic Surgery Intensive Care Unit, believes that he and Wenzler offer a good balance between both the clinical bedside and pure research perspectives.
"One of our requirements is that the fellow has completed a specialty residency in critical care or infectious disease," Benken says. Because of that clinical foundation and deep understanding of research needs across both disciplines, he explains, the avenues for research are "almost endless."
Their aim is to offer, from a research standpoint, an in-depth look at the intersection of critical care and infectious disease.
"I'm excited to work with someone like Eric who's passionate about his research and gifted in his knowledge and the way he can teach--both to the fellow and me," Benken says. "It's a good marriage, so to speak, and we couldn't have found a better first fellow for our program."